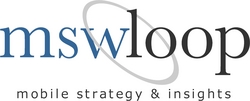 Oldsmar, Fla. (PRWEB) June 22, 2010
MSW Research and Loop Analytics announced a strategic partnership today, resulting in the formation of msw loop - mobile strategy & insights. The partnership provides agencies and marketers with a full range of research, strategy, applications and advertising solutions targeted at mobile smart phone and device platforms.
Leveraging MSW's globally renowned and marketplace validated research systems and Loop Analytics technologies, strategies and expertise, the partnership is initially offering research focused products and services related to mobile smart phone strategy, advertising and ad effectiveness, behavioral and attitudinal measurement and location/proximity telemetry analysis.
Advertisers and agencies that have already seen the capabilities of this partnership and the cutting edge tools have noted that this is "truly breakthrough," "leading edge," "demonstrates thought leadership" and is "exactly what I need to prove the value of this new channel!"
Recent studies and research suggest that mobile smart phones and smart devices such as the iPhone, iPad, Android, Windows Phone and others will displace feature phones and personal computers within the next 24 months. As digital media consumption shifts away from incumbent platforms, msw loop intends to develop actionable strategies and research insights that allow brands to adapt, remain competitive, connected and informed.
Art Klein, Partner and Executive Vice President of MSW Research, and Managing Partner of msw loop said, "Mobile computing and connectivity via smart phones and other mobile devices is the future. Peoples' behavior is changing rapidly; more and more they access online content via personal, mobile devices from wherever they are. We're excited to have joined forces with Loop and believe that we're uniquely positioned on the leading edge of this seismic change that's occurring."
Loop Analytics founders see the msw loop partnership offering a unique and compelling value proposition for global brands. "Consumer adoption of mobile smart devices isn't happening on the same curve as personal computing or Internet usage," commented Loop Analytics President and CEO John Dutchak. "Today's consumer is already tech savvy and hungry for innovations. Brands can neither sit on the sidelines nor throw caution to the wind in forming mobile strategies. This partnership ensures they don't have to."
MSW Research, Inc.
MSW was established in 1968 and is globally renowned for its marketplace validated communications research systems. Recently rated number one for the fourth year in a row - by a large margin - for analytical skills, communication skills, and value-for-the-money in Inside Research's Annual Market Research Survey of Supplier Quality and Value, MSW's TouchPoint™ research systems help clients assess and understand their consumer's relationship to their brand's promise at all its touch points. MSW's services are available globally in over 56 countries via headquarters staff in New York and local global partners.
Loop Analytics, LLC
Recently awarded high honors by the Advertising Research Foundation for innovations in advertising research technology, Loop Analytics is headquartered in the Tampa Bay area in Oldsmar, Florida and was founded in 2009 by mobile application, video game, analytics and digital media research veterans. The Loop platform provides a unilateral toolset for providers, marketers and researchers that "closes" the loop between application usage, advertising consumption and advertising effectiveness by capturing user attitudes, digital behavior and link to sales behavior.
For further information, please contact:
Art Klein
MSW Research
mswloop – mobile strategy & insights
Managing Partner
1111 Marcus Ave., Suite MZ 200
Lake Success, NY 11042
General Phone: 516 394 6000
Direct Phone: 516 394 6025
John Dutchak
President and CEO
Loop Analytics LLC
Tel: 877-719-9706
Edward Hunter
CIO, EVP of Business Development
Loop Analytics, LLC
Tel: 877-719-9706
Visit us on the web at http://www.mswresearch.com and http://www.loopanalytics.com
# # #