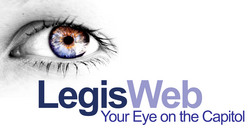 People who are interested in the developing policies and laws of California will get consise summaries from multiple points of view.
Sacramento, CA (PRWEB) June 28, 2010
The 'LegisWeb Eye' launches on July 1st, bringing a new legislative information service to the public. The LegisWeb Eye presents focused news, thoughtful opinion, and lively discussion on the policies of the State of California. The site continuously separates the news from the noise so that readers can be informed without being overwhelmed. The LegisWeb Eye even includes free basic bill tracking so that readers can follow the policies and issues as they develop. The public is invited to participate at http://www.legisweb.com, or follow the activity at @legisweb on Twitter and 'LegisWeb's Eye' on Facebook.
"People who are interested in the developing policies and laws of California will get consise summaries from multiple points of view," says Bradlee Chang, a co-founder of LegisWeb. News is gathered from dozens of respected sources such as Capitol Weekly, the Sacramento Bee, and the Los Angeles Times. Diverse opinions from prominent columnists, the politicians that represent California, and bloggers who track California public policy are presented together.
"In an era where partisan quarelling has come to dominate the news, we built LegisWeb's Eye to refocus the discussion on the underlying policy debate. With all the posturing and maneuvering by our politicians and candidates for office, it is easy to lose sight of the real issues facing the state. LegisWeb's Eye addresses this by using advanced software algorithms to sift through the noise to bring public discussions and the proposed policy changes together in a very useful way," says Grant Vergottini, another co-founder at LegisWeb.
LegisWeb's Eye is built upon LegisWeb's existing premium bill tracking service. Since 2007, LegisWeb has been providing professionals such as lobbyists, corporations, and advocacy groups a comprehensive bill tracking services. LegisWeb pioneered "As Amends the Law" – which highlights the changes to the law being proposed by pending legislation. LegisWeb is also the only bill tracking service that has continuous monitoring for real-time updates.
Background
LegisWeb is a product of Xcential Group, LLC, a software and consulting company focused on Legislative systems. Xcential has been providing consulting and systems to the State of California's Office of Legislative Counsel (OLC) and other customers since 2002. Xcential's LegisPro Editor is the bill drafting system and LegisPro Publisher is the publishing system for the OLC. These products have been used by the Legislature to create all legislation since 2005, totaling over 50,000 bills and amendments.
Xcential Group, LLC is led by Bradlee Chang and Grant Vergottini.
Chang has over 25 years experience in software product development, delivery, management, and consulting. As cofounder of Xcential, Chang is responsible for all customer implementations and is Xcential's product manager. At the State of California, Bradlee is involved in all stages of the legislative drafting system. He is responsible for requirements analysis, system design, design documentation, and project management for all Xcential deliverables. Prior to Xcential, Chang was a founder and VP of Engineering for Chrystal Software (now Astoria Software), a content management company. He delivered of three content management products. Chang began his career as a technologist in Xerox's advanced systems group developing new capabilities for the next generation of office systems.
Vergottini has over 20 years of experience building and delivering enterprise solutions for legislation, electronic design automation (EDA) and high volume web applications. As cofounder of Xcential, Vergottini is currently responsible for Xcential's LegisWeb bill tracking service (http://www.legisweb.com). He is responsible for LegisWeb's architecture, database design, XML schemas, implementation, deployment and ongoing enhancement. Vergottini also built LegisPro, Xcential's legislative authoring editor. To support these efforts, Vergottini designed Xcential's technology to represent legislation across multiple legislatures in a single XML schema (patent pending). Prior to Xcential, Vergottini developed XML content management solutions for Chrystal Software (now Astoria Software) and Homebuilder.com. In the EDA arena, Grant developed numerous customer solutions for Boeing and Mentor Graphics. Grant also co-founded a venture-funded start up focused on EDA.
# # #