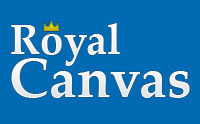 Chesapeake, VA (PRWEB) June 23, 2010
RoyalCanvas.com, a new company that makes canvas prints from customer photos, was launched only three months ago and the early success has stunned the founders. "The growth has been fantastic," says company founder Matt Stephenson, "Revenues have tripled each month. The most surprising thing has been how fast people come back to make their second order. We've had about 70% of our customers get a second canvas, usually within a week of receiving their initial canvas order. Stephenson attributes the success to competitive prices, the quality of RoyalCanvas prints, very low shipping cost, and the reputation for customer service gained through years of treating customers well at his other website PosterBurner.com - a website that prints custom posters.
Stephenson and his team have also developed another new passion to go along with making canvas prints. "We just started following the soccer games in Africa and learning about the top players and teams. Everyone here used to play baseball and I don't know if anyone was really into soccer before this." But seeing the United States play England in the opening match turned them into fans.
To celebrate the new found passion, Stephenson decided to offer a special US Soccer Team canvas discount. If the United States team makes it out of the first round, on Saturday June 26th RoyalCanvas will release a 50 dollar coupon to Twitter and Facebook followers. The coupon can be used to get a free small canvas or a receive a 50 dollar discount on a large wrapped canvas.
To learn about the discount either follow or fan RoyalCanvas on Twitter or Facebook.
# # #