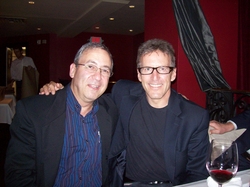 Parkinson's disease is a degenerative neurological disease that affects about 1 million Americans. More people have Parkinson's disease than Multiple Sclerosis, Muscular Dystrophy and ALS combined
Charlotte, NC (Vocus) June 23, 2010
Author and motivational speaker Richard London was recently interviewed on Clear Channel radio in Charlotte, NC about Parkinson's disease and the Davis Phinney Foundation's Victory Summit read excerpts below or listen here:
http://www.ahandbookforlife.com/wp-content/themes/rich/audio/rich-parkinson.mp3.
Mr. London conducts seminars to help people overcome obstacles and achieve goals in their lives. He has a special interest in promoting awareness of Parkinson's disease because he was diagnosed with Parkinson's in 2005. Richard was appointed the Volunteer Coordinator to represent the Parkinson Association of the Carolinas at the Victory Summit which was presented by the Davis Phinney Foundation and was held on June 5, 2010 in Charlotte. A Handbook for Life, the title of Richard's seminar and companion book, sponsored a table at the event.
In the radio interview London explained, "Parkinson's disease is a degenerative neurological disease that affects about 1 million Americans. More people have Parkinson's disease than Multiple Sclerosis, Muscular Dystrophy and ALS combined", he said.
"Everyone is affected differently by Parkinson's disease", he added. "My personal focus is on staying positive and active despite my challenges. That's why I have supported Davis Phinney and his organization."
About Davis Phinney: Davis Phinney was an Olympic cyclist and 1984 bronze medal winner. He was the first American to win a stage at the Tour de France. After two decades as a professional cyclist, Mr. Phinney was diagnosed with Parkinson's disease. The focus of his foundation is to promote research, PD awareness, and help people living with PD celebrate the daily victories in their lives.
About Richard London: Richard was diagnosed with Parkinson's disease in 2005, but in retrospect believes he had symptoms seven to ten years earlier. Parkinson's disease is not the only challenge that he has had to overcome. London has also endured nine surgeries from an automobile accident and is a six year survivor from prostate cancer. Despite these challenges he is a successful businessman, author, speaker, third degree black belt and has his commercial pilot's license.
London conducts seminars and speaks regularly to groups about setting and achieving goals, and overcoming obstacles through his company "A Handbook for Life". Mr. London will be a keynote speaker at the Southeastern Parkinson Disease Conference in Atlanta, October 15 – 17, 2010. London currently resides in Charlotte, NC but was born in Baltimore, MD and grew up in the Philadelphia/New Jersey area.
# # #