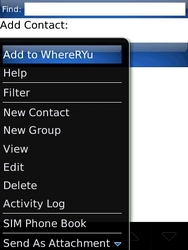 Simply Innovate
San Jose, CA (PRWEB) June 23, 2010
Allow Friends and Family to track your location with the latest Patent Pending Family Location Tracking Technology from Volcari
Meet Volcari's WhereRYu™ BlackBerry® app and check its features:

Patent-Pending Location Tracking Technology
Allow friends ,family and co-workers to find you on demand
Can be used to track the location of your spouse or children, find a lost phone or track employees (Lone Worker Tracking)
Your friends or family do not need to install any application or register to any website/service to find your location - all they need is an email account
Keeps your location private as the location is sent to a specific trusted person by email (it does not save your location on a server like Google Latitude and Executrac do)
If kidnapping is very common in your country (like Colombia ,Mexico or Iraq) this can be an added security measure to your family members
Create a safe list of people that are allowed to receive your location
Allow people to find your exact location with GPS (when GPS has reception) or an estimated location when GPS is not available (supported only on GSM phones)
Your location can be seen only on demand by your trusted people on Google maps (on a desktop and on a mobile phone)
Saves battery Life as it does not require the GPS to be on all the time like on the Google Latitude application
You can easily keep track of who asked for your location and when (by looking at your email Inbox)
Volcari with headquarters in the Silicon Valley is known for its innovative applications that solve simple needs, or what the company calls "Simply Innovative". There are no flashlight apps at Volcari. We strive to think out of the box on how we can make people more productive using apps such as UnlockIt™ which provides easy password unlock, or the ProcessViewer™ which allows to see which apps are rarely used and are taking too much resources, or Volcari's YouAreHere™ that Allows to take a picture of a park or zoo map and then let the BlackBerry® show you were you are on that map.
"We have just passed the 100,000 download of our applications, we would like to thank our customers that helped us get to this point"
"We are always seeking new ideas for our applications by listening to our customers , the WhereRYu™ app is just one of several applications we developed that tries to address every day needs with innovative solutions" said Ari Volcoff, Volcari's Founder and CEO.
Go to http://www.volcari.com or look for us on App World for over 20 innovative BlackBerry® apps from Volcari.
"Innovation is what moves us forward" Mr. Volcoff concluded.
###