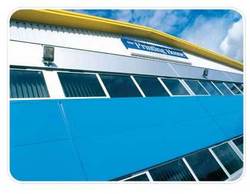 Global sporting events such as the World Cup, the Olympic Games, Wimbledon and the Ashes are great for generating additional design and print business but are a legal minefield
(PRWEB) June 24, 2010
The Printing House, on the Marshfield Bank industrial estate off Middlewich Road, Crewe, Cheshire, UK, say they have experienced a surge in demand for their posters and other promotional printed items connected with the World Cup, Wimbledon and the Olympic games, but are being active in steering customers away from the many legal pitfalls of infringing copyright rules.
"Global sporting events such as the World Cup, the Olympic Games, Wimbledon and the Ashes are great for generating additional design and print business but are a legal minefield", said Joint Managing Director Peter Harrison.
"Firms have to be very careful not to use official logos or give the impression that they are officially linked to the events if they are not. Even some phrases are protected. Failure to comply with the complex rules can lead to legal problem and be very costly for the unwary business".
The most recent problem we identified involved 'ambush marketing' at a World Cup match by a group of young women promoting a different beer than the one which is the official sponsor. Former Port Vale player Robbie Earle was sacked from his job at ITV for his involvement in that episode.
"But companies can still create posters, banners and other promotional material such as leaflets and brochures by careful use of graphics. You can sell strawberries and cream based on the Wimbledon theme, for example, without actually mentioning Wimbledon but using images that suggest the tournament", Peter added.
"The authorities and institutions invoved have made it pretty clear that they will take court action over companies infringing their commercial rights and as 2012 comes nearer these issues will become even more important. Our award winning graphic design studio can produce visually stunning artwork that links to these great events and keep customers on the right side of the law".
Richard Sproson, Head of Pre-press and Design added, "the law around this issue is quite clear, tread on the wrong toes and the consequences are quite severe. Fortunately we have many years of experience not just in design but in copyright regulation and will always guide our customers along the right lines.
The Printing House of Crewe is one of the UKs fast growing suppliers of design, print and marketing services. The online division is Print Buying Direct, where customers can buy high quality print online and expect fast delivery.
Recent Service additions to support our customers include email marketing, Banner Printing, web design and Exhibition Stands.
###