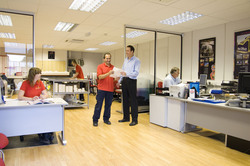 (PRWeb UK) June 24, 2010
If you are looking for business opportunities in Swindon, the area can hold endless potential with lots of businesses for sale as well as numerous money making opportunities there for the taking. However, starting your own business can be a turbulent and stressful time so before making any decisions it's important to thoroughly research all business opportunities in the area as Tony Marsh, Sales & Marketing Director for Signs Express explains.
A Swindon franchise such as Signs Express is one such avenue where you can start a brand new business, be your own boss and make money; but all with the safety of an already established brand, proven business model and with support along the way http://www.signsexpress.co.uk/franchise/availableterritories.cfm.
As the UK and Ireland's largest signs franchise providing all types of signage - including exterior signs ie shop fascias; interior signs; vehicle graphics; window graphics; banners and health and safety signs - working in the B2B sector means that there are no customer constraints, after all every business needs signs and graphics in some shape or form.
The Swindon and Wiltshire areas in particular are abundant with customer potential and money making opportunities. With particular emphasis on economic growth and development in retail, financial and business services, technology, public sector and leisure; the key customer base is already on your doorstep making it a flourishing centre of activity for local business opportunities.
Signs Express customers can therefore stretch from the public sector, local councils such as Swindon Borough Council, professional clients such as solicitors and architects, retail and restaurant customers as well as a vast range of small mobile businesses through to industrial and commercial enterprises in many sectors and divisions.
Signs Express currently has 80 centres nationwide http://www.signsexpress.co.uk/franchise, however, there are still a number of greenfield businesses for sale which are ripe for the picking throughout the UK. The Swindon franchise opportunity is one particular location Signs Express is looking to recruit as there is currently no presence in the Wiltshire area; it therefore holds endless opportunities for you to start in franchising; buy your own business and to become your own boss. Don't look for Swindon jobs, be your own boss with Signs Express.
As part of an already established brand, the process of setting up a sign franchise in Swindon is made so much easier http://www.signsexpress.co.uk/franchise/becomingafranchisee.cfm. As well as including working capital the overall fee to become part of the Signs Express franchise includes help finding premises; unit fit out with everything from printing machinery and computers through to desks and signage materials; help researching the local Swindon market along with providing business data; marketing literature and merchandise and help recruiting (Swindon jobs are currently in demand the same as everywhere else); as well as training in accounts, marketing and technical processes to get started.
With this there are many more business opportunities with faster financial rewards. Through the help available a new Signs Express franchise looks to break even in the first year, receive dividends of £20,000 in year two and £40,000 in year three. In fact, well established franchisees are turning over £1m a year and some longstanding franchisees have recently been celebrating reaching £5m invoiced sales mark.
As a management signs franchise, prospective franchisees require no industry experience as full training is provided and sign making staff will be appointed to work in this case in the Swindon franchise production unit. Your skills will be based on your own management and sales experience and your ability to lead a team. Ongoing support http://www.signsexpress.co.uk/franchise/support.cfm is available from sales and marketing, accounts, IT, HR, operations and technical as well as initial training to learn more about technical aspects and business techniques.
For more franchise information on the Signs Express Swindon business opportunity or on any other franchise locations across the UK, please contact us on 0800 731 2255 or visit http://www.signsexpress.co.uk/franchise/find-out-more.cfm to find out more.
###