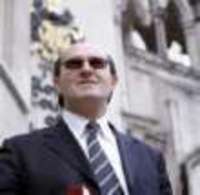 We are going to revive the labels and sign new stars.
London and Delaware (PRWEB) June 22, 2010
Two historic names in the record business have been revived by international lawyer Giovanni Di Stefano.
Pye Records LTD and MGM Records Inc. have been formed with the intention of "restoring two glorious names to where they belong" stated Giovanni Di Stefano speaking from Amman.
Pye Records was founded in 1953 and had stars on its hit list such as The Bachelors, Long John Baldry, David Bowie, Petula Clark, Brotherhood of Man, Mungo Jerry, Status Quo, Frankie Vaughan and a host of other big stars.
MGM Records was founded in 1946 and released recordings from MGM films. It hosted such stars as The Animals, Sammy Davis Jr, Connie Francis, Herman's Hermits, Roy Orbison, The Osmonds, The Righteous Brothers, Niel Sadaka, Frank Zappa and other big stars.
Both record companies ceased either by amalgamation or as in the case of MGM Records allowed to cease trading.
"We are going to revive the labels and sign new stars. Record companies such as Pye or MGM Records cannot be allowed simply to be defunct. We will look for new talent and retain stars that seek a new direction in music production and distribution," stated Giovanni Di Stefano.
Two companies have been incorporated in Delaware and in England with Pye Records Ltd releasing records within the EU, Asia and Australasia and MGM Records Inc concentrating on the Americas.
"I have already received a number of enquires from artists in different countries. It's one thing releasing your record on an independent record company and all the aftermath of such but another when you have the Pye or MGM Records logo. But we will not be slaves to just any music. The talent has to be there to merit such logos as it was previously. Both Pye and MGM Records are known for signing talent. We shall stay faithful to such guiding principles but at the same chance giving newcomers a chance," stated Di Stefano.
Music producer Peter Ware joins Giovanni Di Stefano in the production side of both record companies and in "transferring raw talent to music" stated Peter Ware from his base in Spain.
Dec Cluskey of The Bachelors from London stated: "We used to record on Pye and it will be good to return to such a great brand name. I will offer all the advice and assistance in this great venture."
Ex head of MGM Giancarlo Parretti speaking from Orvieto and supporting the venture stated that " this is a great move to rekindle a company that was within the MGM group but allowed to fold."
New logos have been commissioned from famous artist Viktor Galliano and the company launches with its release of JustCarmen "live 2010" CD with new songs from the artist that has more than 10 million followers on MySpace.
Contact:
Giovanni Di Stefano
+393772034376/+390645214995
Stella Pairvanta
+447706845769
gds1955(at)tiscali(dot)it
sli(dot)london(at)gmail(dot)com
http://www.mgmrecords.eu / http://www.pyerecords.com
###