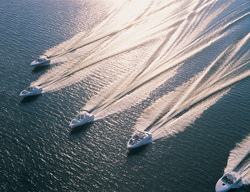 Vibrant colors lighting up the skies on Independence Day is a breathtaking sight, but there's something about taking in the view while out on the water with family and friends that enriches the experience, says Carl Blackwell, vice president of Discover
Chicago, IL (PRWEB) June 23, 2010
Discover Boating, the U.S. boating industry's consumer awareness program, announced today top spots for viewing fireworks from the water this Fourth of July – the nation's most popular boating weekend.
Nearly 67 million Americans take to the water each year on a boat and for good reason. Results from a boating habits survey conducted in April of a 4,200 person sampling of members of the nation's largest boat owners group, BoatU.S., reveal that 78 percent of respondents believe boating brings their family closer together and 68 percent said it has improved their social life. What's more, 23 percent noted they would go boating more often this summer than last.
To mark the Fourth of July holiday and celebrate America's favorite on-the-water pastime, Discover Boating has identified popular nautical locations around the country to give boaters the best seat in the house for viewing fireworks:
Austin, Texas: Marked by symphony music and a spectacular fireworks display over Lady Bird Lake, Austin's annual July 4th celebration draws more than 100,000 people. Rent a kayak or head out aboard your own boat where the best seats in the house are on the water.
(July 4, 8:30 p.m., Auditorium Shores at The Long Center)
Chicago, Ill.: Join friends and family for great food at the Taste of Chicago then hop on a chartered cruise or your own boat as the skies above Lake Michigan and Chicago's famous skyline are illuminated by three synchronized fireworks shows along the city's shores on the North Side, South Side and Downtown. (July 4, 9 p.m., Foster to Montrose; 63rd Street Beach to Promontory Point; and, Navy Pier)
Los Angeles, Calif.: Join a variety of power and sailboats on the water to enjoy live music and big booms over the main channel in Marina Del Rey for free family fun and a patriotic fireworks display.
(July 4, 9 p.m., Marina Del Ray)
Memphis, Tenn.: The Beale Street Fourth of July celebration is a festive time of food, live Blues music and fireworks. Held along the Mississippi River, the celebration offers a perfect atmosphere for boaters to partake in all of the festivities. (July 4, 10 p.m., Beale Street)
Milwaukee, Wis.: Milwaukee draws thousands to the Lake Michigan shoreline to watch the U.S. Bank Fireworks, one of the grand spectacles of the city's annual Summerfest music festival. Taking in the display from a boat provides an unparalleled panoramic view. (July 3, 9:25 p.m., Veterans Park)
Hilton Head, S.C.: Harbour Fest at Shelter Cove features live entertainment, plus regional cuisine, arts and crafts, and an unforgettable fireworks display over the harbor. Whether on the boat with family or on a "Fireworks Paddle" guided kayak tour, HarbourFest offers the best seat in the southeast for celebrating Independence Day. (July 4, 9:45 p.m., Shelter Cove Harbour)
New York, N.Y.: With more than 40,000 pyrotechnic shells in a half-hour display, Macy's dazzles viewers each year with a fireworks display of grand proportions over the Hudson River. Launched from two locations, taking in the spectacular views from aboard a boat cannot be beat. Visitors can also celebrate in style on a cruise around the Statue of Liberty, featuring live music and dancing. (July 4, 9 p.m., Manhattan's West Side between 23rd and 59th Streets)
Philadelphia, Penn.: In the nation's birthplace, July 4th means history, music, fun and fireworks. Climb aboard a boat on the Delaware River to view the fireworks and listen to live music from the Goo Goo Dolls and Philadelphia favorites as the City of Brotherly Love shines in the background during the Wawa Welcome America! Festival. (July 4, 10:30 p.m., along the Delaware River)
St. Paul, Minn.: St. Paul's Taste of Minnesota is a four-day food and music extravaganza at Harriet Island with its Fourth of July celebration anchoring the festivities. As the sun sets, sail, motor and paddle out to the best on-the-water spot to catch the fireworks over the Mississippi River. (July 4, 10:15 p.m., Harriet Island)
Tacoma, Wash.: The annual Freedom Fair on the Ruston Way waterfront offers something for every boater along the waters of Commencement Bay. After taking in the air show or annual beach pole vault competition, Tacoma boaters drop anchor to end the day with the spectacular Emerald Queen Fireworks Extravaganza. (July 4, 10:10 p.m., Ruston Way waterfront)
Visit DiscoverBoating.com to find more boating destinations across the U.S. and beyond.
Don't forget to tie-up at Discover Boating's virtual flotilla – take a photo of yourself, family or friends enjoying life on a boat over the Fourth of July weekend. Then post the picture to Discover Boating's Facebook fan page in the 'Event Photos' section and include your state. On Monday, July 5, all posted photos will be tallied and the winning state's boating photos will rotate as Discover Boating's Facebook profile picture for the rest of the summer.
DiscoverBoating.com is the most comprehensive boating website, offering useful, unbiased information on all types of boating for novice boaters wanting to get started and current boaters looking to improve their experience.
About Discover Boating
Discover Boating is a national awareness campaign developed by the North American recreational boating industry and managed by the industry's trade group, the National Marine Manufacturers Association (NMMA.org). Discover Boating programs focus on improving the boating experience and building interest in recreational boating by providing a resource for Americans to explore the benefits, affordability and accessibility of the boating lifestyle. To find out more, visit DiscoverBoating.com.
###