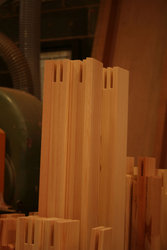 (PRWEB) June 23, 2010
Since the turn of the year, Dempsey Dyer have been focussed on improving the product offering in their Timber Window Range. After a tough 2009, much time has been spent improving the efficiencies of manufacture and consequently, the quality of the product being produced. Two subtle, but extremely important areas of improvement will be discussed in this article.
We are all aware of the traditional argument levied against the Timber Window industry. It centres on the fact that the product requires maintenance, will rot, twist and warp (it is talked about as if this happens to every window ever produced!) and the sealed units will break down quickly due to the poor design.
Dempsey Dyer are in a unique position to comment on this issue as they are manufacturers of both UPVC and Timber Windows. They understand the benefits of both materials and are constantly improving the product through re-design and/or manufacture processes.
The first major improvement made this year to the Timber Window offering is the inclusion of end grain sealer to all exposed timber grain prior to the application of the 3 part finishing process. It is clear to all that the end grain of timber is the most susceptible to water ingress, often acting like a sponge especially in high exposure areas. By effectively making these specific areas of the timber window impervious to water, you are eliminating the risk of excessive moisture penetrating the timber which can lead to the movement of the timber.
The second major improvement was the addition of a waterproof seal to the two corners where the stiles meet the bottom rail. Again, this area can become susceptible to excessive water ingress which overloads the unique drainage system in high exposure areas. Here, the water penetrates the joint therefore working its way into the end grain leading to a similar result as described above.
These two key improvements offer huge benefits to the long term durability of the Timber Windows manufactured by Dempsey Dyer. By controlling the water ingress into the timber at the exposed grain, the natural movement of wood is significantly reduced. This has the knock-on effect of improving the durability of the paint finish as no longer does it have to move by up to 3mm as the timber expands and contracts.
Dempsey Dyer's 33 years of experience in the manufacture of Timber Windows has led to many significant design improvements and, as the company continues to grow and innovate, the quality of the product will also continue to improve.
As for the argument as to the benefits of PVC over Timber and vice versa, why not accept that both products perform exceptionally well in different scenarios. They are designed for different marketplaces – different buildings and it is the knowledge that there is a real choice between two quality products that gives confidence to Dempsey Dyer, a leading manufacturer of both Timber and PVC Window products since 1977.
###