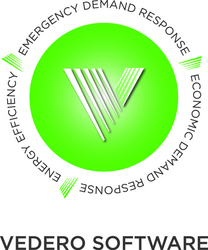 We are excited to use the Vedero Solution to enable our customers for any energy efficiency initiative from demand response to carbon footprint reduction
Plano, TX (PRWEB) June 22, 2010
Vedero Software, a leading provider of software solutions for automated demand response, today announced a partnership with energy services company Smart Energy Cloud. Under terms of the partnership agreement, Smart Energy Cloud will offer the Vedero Software solution to commercial building operators for automated demand response.
Demand Response is defined by the Federal Energy Regulatory Commission (FERC) as "a reduction in the consumption of electric energy by customers from their expected consumption in response to an increase in the price of electric energy or to incentive payments designed to induce lower consumption of electric energy." According to a FERC staff report — A National Assessment of Demand Response Potential (National Assessment), submitted to Congress in June 2009 — current demand response programs tap less than a quarter of the total market potential. Commercial buildings consume 40% of the electricity in North America, and the operators that manage these buildings are keenly interested in participating in demand response. However, curtailing electricity must be done in a way that considers the needs of the building occupants. Building operators are concerned first and foremost with the comfort of their tenants.
Vedero Software meets the emerging critical requirement of providing a robust platform that ensures compliance with demand response events, while maintaining tenant comfort through existing Building Automation Systems. Smart Energy Cloud specializes in the delivery of energy industry consulting services and solutions, making the latest technology and business practices available to commercial entities. Smart Energy Cloud consultants will work with building operators to develop optimal curtailment strategies automated through Vedero Software.
"We are excited to be partnering with Smart Energy Cloud" said Joe Pollard, Vedero Software Co-Founder and CEO. The combination of their energy domain expertise and the automation provided through our software is allowing a major growing segment of the energy market – Commercial Buildings -- to reap the benefits of demand response".
"Our job is to help our clients drive efficiency in their business, and we are excited to use the Vedero Solution to enable our customers for any energy efficiency initiative from demand response to carbon footprint reduction" said Kevin Nason, CEO, Smart Energy Cloud.
About Vedero Software
Vedero Software provides software and services to instrument and automate commercial buildings for energy responsiveness. This enables our customers to generate cash, reduce energy costs, and generate added services to attract and retain tenants, thereby increasing the value of their buildings. Our automated energy management solutions help grid operators supplement, avoid or defer costly investments in generation, transmission and distribution facilities and enhance the reliability of electric power.
Our solutions are used by large commercial organizations to automate demand response events in conjunction with their energy provider, and meet their sustainability goals.
Backed by some of the industry's most prestigious investors, Vedero Software has the financial strength to scale and thrive in the rapidly growing energy management market. The result of years of development and millions of dollars in investment, our solutions provide Automated Demand Response, Energy Efficiency and Energy Analytics. Visit us at http://www.vederosoft.com.
About Smart Energy Cloud
Smart Energy Cloud (SEC) is an energy services company that specializes in the delivery of energy industry consulting services and solutions. As energy consultants, our goal is to make the latest technology, business practices, and governmental regulatory initiatives available to industry and commercial entities. Visit us at http://www.smartnergycloud.com.
CONTACT:
Razorsight:
Michael Bunyard
http://www.vederosoft.com
214.475.1534
###