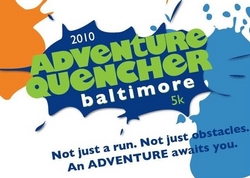 Runners will be covered in goo from head to toe by the time they reach the finish line!!!
Baltimore, MD (PRWEB) June 24, 2010
Date: Saturday August 28th 2010
Location: Rockburn Branch Park
Run: 3.1 miles of trail, obstacles, and interactive segments
Charity: The Robert Packard Center for ALS at Johns Hopkins
This inaugural 5k adventure race will be held on a network of trails at Rockburn Branch Park in Howard County just minutes from downtown Baltimore and conveniently located off of I-95 and MD-100. The race will be professionally timed by Mid-Atlantic Timing the results posted on the web and at the Union Jack's after-party where the participants will enjoy a free beer/drink, prize raffles, great specials and laughs.
Throughout the course runners will have to climb a wall, dodge the splash blasters, navigate winding tunnels, hike rubber tires, dodge the ball blitz, watch out for flying goo and of course crawl through the glop slop at the end. Runners will be covered with color from head to toe by the time they reach the finish line. The obstacles are challenging enough for the experienced outdoor adventurists, yet provides enough excitement for the leisurely runner looking for some weekend excitement and great stories to tell their coworkers on Monday.
At the conclusion of the race, prizes will be raffled off such as new shoes, gym memberships, gift cards, dinner for two and much more. All participants will also get a tech tee shirt, finisher medal, goodie bag, snacks at the race, and access to vendors that will be providing additional products and services.
Racers have an opportunity at registration to donate to the Packard Center for ALS at Johns Hopkins in addition to a portion of the race proceeds that will be directly donated to the charity.
If you would more information about this exciting event or to schedule an interview with Jonathan Horton please call 443-845-1161 or email at jhorton008(at)gmail.com
Also visit the race website at http://www.TheAdventureQuencher.com
###