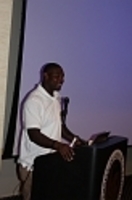 "Encouraging everyone to get tested for colon cancer is my gift to my dad on Father's Day. The test is not hard and it can save your life."
Orlando, Fla. (PRWEB) June 22, 2010 –
"Get tested. Get tested. Get tested for colon cancer." Jacksonville Jaguar Wide Receiver Mike Sims-Walker delivered this emotional plea to families at his first-ever Playmaker 11 Scholarship ceremony hosted by him on June 19, 2010, at the University of Central Florida's Fairwinds Alumni Center in Orlando.
He created The Michael A. Sims-Walker Foundation in memory of his father, Mike Sims, who lost his battle to colon cancer in December 2008. Through the Foundation, which launched in 2010, Sims-Walker plans to educate families about the early detection and prevention of colon cancer.
"It was hard to see my dad laying in the hospital," Sims-Walker said. "He was always so strong, so it was really hard to see him in so much pain and dying in pain."
Sims-Walker added: "That's why I created the Playmaker 11 Scholarship. I want to help educate families about the things they can do to prevent colon cancer so they don't have to go through what my family and I did."
After receiving 35 applications, the Orlando native presented 11 $200 scholarships to winners from Jacksonville and Orlando. The 12th winner, Aaron Johnson of Jacksonville, was awarded the grand prize of $1,000.
Donning a teal-colored suit, Johnson excitedly bounced to the front of the room to receive his scholarship from Sims-Walker. Johnson plans to attend Florida Agricultural & Mechnical University in Tallahassee, Fla. in the fall.
"Jacksonville Jaguars is my favorite team," Johnson said. "So, I'm honored to receive this award from Mike – I can hardly contain my excitement."
The awards ceremony took place the day before Father's Day.
"My dad always encouraged me to be the best and always give back," Sims-Walker said. "This scholarship lets me support their dreams just like my dad always supported mine.
"Encouraging everyone to get tested for colon cancer is my gift to my dad on Father's Day. The test is not hard and it can save your life."
About Mike Sims-Walker
Mike Sims-Walker is a wide receiver for the NFL's Jacksonville Jaguars. Drafted in the 3rd round in 2007, Sims-Walker is entering his 4th NFL season. A graduate of the University of Central Florida, Sims-Walker holds a bachelor's degree in Liberal Studies. In 2009, he changed his name to Sims-Walker and in 2010 created the The Michael A. Sims-Walker Foundation to honor his father, Michael Sims, who lost his battle to colon cancer in 2008.
###