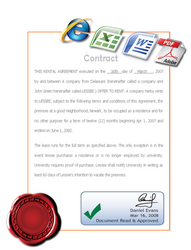 The use and benefits of digital signatures for AEC (Architecture, Engineering and Construction) firms to be discussed in an ENR webinar called "Digital Signatures: Designing New Levels of Efficiency and Collaboration".
San Francisco, CA (PRWEB) June 23, 2010
In an upcoming webinar titled Digital Signatures: Designing New Levels of Efficiency and Collaboration, Chris Kraft, Chief Engineer of the Telecoms division at Black & Veatch, a leading engineering design firm, will discuss his firm's use of digital signatures. Other speakers in this webinar include Ian Rusk, President of ZweigWhite, a leading Engineering consultancy, and Gadi Aharoni, CEO of ARX, a leading vendor of digital signatures to the AEC industry. During the discussion, Mr. Aharoni will unveil a Professional Engineers Board Regulation map highlighting electronic and digital signature acceptance across the US. Following the presentations, event attendees will be invited to participate in a Q&A session with the speakers.
Click here to register for the webinar, which takes place on Wednesday, June 30th, 2010 at 2:00PM (EST). Registration is free, and if you can't make it, click here to register to receive a recording of the webinar following the event.
Due to the worldwide economic decline, AEC organizations are faced with fierce competition over fewer projects, and clients who are demanding better quality, faster delivery, and lower costs. In response, these firms are turning to promising technologies that will help them stay on top in this new, competitive landscape. Leading AEC firms are using digital signatures - which are now accepted by PE boards in the vast majority of US states - to securely and compliantly replace paper-based processes with electronic ones and enable efficient, electronic workflows.
Digital signatures allow each engineer's contribution to be uniquely attributed and sealed from changes, thereby binding the liability to its source. This improves both internal and external collaboration and enables an organization to tap into its best resources for the job, wherever it may be geographically. Since collaboration enhances value, this allows engineering firms who implement digital signatures to deliver the highest quality design. Further, digital signatures enable AEC firms to eliminate the need to print and route paper documents. This cuts project delivery times, reduces delays and improves their agility to changing client requests, thereby enabling AEC firms to gain a competitive advantage in customer service. In addition, eliminating the expensive and environmentally unfriendly processes of printing and routing paper documents enables firms using digital signatures to reduce costs and improve their environmental sustainability.
About Engineering News-Record
Engineering News-Record provides the news, analysis, commentary and data that construction industry professionals need to do their jobs more effectively. ENR products include a weekly magazine with more than 70,000 paid subscribers, a website with over 90,000 unique visitors a month and a series of in-person events. The audience includes contractors, project owners, engineers, architects, government regulators and industry suppliers—many of whom work around the world. ENR connects diverse sectors of the industry with coverage that everyone needs about issues such as business management, design, construction methods, technology, safety, law, legislation, environment and labor.
For more information please visit http://enr.construction.com/
About CoSign Digital Signatures
ARX (Algorithmic Research) is a global provider of cost-efficient digital signature solutions for industries such as life sciences, healthcare, government, engineering, and energy. ARX's CoSign digital signature solution automates approvals affordably in a compliant manner, allowing organizations to go paperless, expedite business processes and save costs. CoSign is the only digital signature solution that is seamlessly integrated with Microsoft SharePoint and other popular DM/ECM solutions. CoSign signatures are globally accepted by external partners without the need for proprietary-validation software. CoSign is also centrally managed through the organization's user directory for reliable control of signature privileges, and ease of use and administration. Learn more about the CoSign digital signature solution.
CoSign is a registered trademark Algorithmic Research, Ltd. All other trade names and trademarks are the property of their respective holders.
# # #