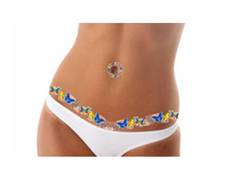 "You're never fully dressed without the right accessories!"
Houston, TX (PRWEB) June 24, 2010
ScarArt, an innovative company specializing in adhesive products used to conceal scars, is gaining notoriety for its abdominoplasty (tummy tuck) and cesarean section (C-section) temporary decorative adhesive strips.
This product offers a unique scar solution to conceal scars left from surgery once a Tummy Tuck or C-Section has been done. ScarArt offers a number of designs allowing consumers to select different looks as often as they like. This temporary Adhesive Strip stays in place for up to three days; even in the harshest of environments involving sun, sand, and water exposure.
Until ScarArt, concealing abdominal scars had few realistic options. While traditional cream-type products help to diminish a scar's appearance, the scar is always visible. ScarArt is the first realistic product on the market that offers a temporary solution in the form of an adhesive accessory that looks great and stays in place. Consumers from all over the world are raving about ScarArt. They claim they feel more confident than ever once they apply the beautiful designs allowing them to disguise their scar. Now instead of finding ways to hide their scar they are finding ways to show off their ScarArt designs.
ScarArt's initial market focus is tummy tucks and c-section scars. Product priced at $29.95 . Additional products in development target the pediatric market with adhesive strips designed for vertical scars left from open heart surgery. These ScarArt designs allow children to temporarily hide their scars with fun, colorful designs. For more information about ScarArt, contact Angela Barrow, President at 866-964-SCAR (7227) or visit http://www.scarart.com.
###