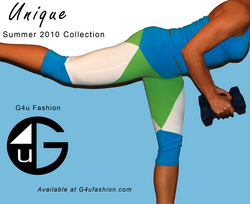 "All women feel the need for comfortable clothes while exercising at the gym, on the trail, at the studio or at home."
Washington, DC (PRWEB) June 24, 2010
G4u Fashion now designs and produces Brazilian fitness pants, capris, shorts, tanks and tops. Giana has assimilated into the social media revolution by starting a blog at http://www.G4ublog.com and is using this new tool to announce the arrival of her G4u Unique Summer 2010 Collection. By starting this blog, Giana hopes to change a business that is veiled by images of ultra-fit Brazilian fitness models into an informative source. Women will be able to log on for real answers about what clothes will work for their individual needs.
"While working as a trainer my clients would constantly ask me about good places to buy clothes for working out that would fit properly and still look feminine." Giana explains as she details the beginning of G4u fashion. "The only place I could ever find clothes that worked for me were in my home country of Brazil. While on a trip there in 2006 I passed a textile company while driving to visit family and decided to stop by. This particular firm had plenty of colorful and fashionable fitness clothes but nothing made from fabrics used in sports and training. Over the next few months we discussed designing a line of Brazilian Fitness Pants, Capris, Shorts, Tops and Sets which could be made from DuPont ™ Supplex ® and Lycra ®." At the time existing online vendors had either boring functional clothes or colorful clothes that would fall apart after a few washes. "I got to know which fabrics would stand up over time as a trainer," Giana explains "it is one thing to look good walking into the gym or walking on a trail, but it's another thing entirely to be a woman at the gym and have your pants rip in half while doing a squat or showing have of your rear end because the special low rise pants you bought do not cover your body when you bend over" All of G4u Fashion's clothes have been designed with fitness in mind.
"I wanted to offer clothes that would wick away moisture while working out but that also would be flexible enough to allow for stretching and squatting while still being fun and stylish. We also recognize that a lot of people are working out to lose fat or gain muscle and we wanted to offer clothes that would fit comfortably over time while your body changes." says Giana who has been exercising since her teenage years. "All women feel the need for comfortable clothes while exercising at the gym, on the trail, at the studio or at home. It is very frustrating to buy a cute pair of pants one month only to find out that all of your working out has made them not fit properly the next. We are constantly having conversations with clients on the streets, online and at the gym to get suggestions on how we can improve our clothes and we always listen. With new fitness trends emerging often like Parkour, Cross Fit and Zumba® it is important to recognize that as our clients find new ways to be fit we need to follow with clothing that will look good and be function no matter what the exercise."
Giana anticipates that fitness, fashion, and nutrition will be popular topics of discussion on her blog. "I love fitness fashion and I want G4ufashion to provide my clients with the best fitness clothing possible delivered quickly." Giana's new blog will be used as a tool to expand upon that service, as well as provide her customers with a comfortable atmosphere within which to discuss her products and activities related to their use.
# # #