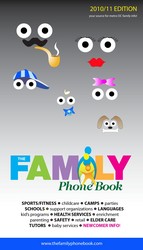 "Such a helpful directory....my family recently moved to Northern Virginia...so glad my agent gave me this resource."
Reston, VA (PRWEB) June 24, 2010
Announcing the release of the 2010/11 Family Phone Book/Welcome to metro DC guide!
Whether parents are looking for services for their children, themselves, their pets or their own parents, they'll find hundreds of resources in this 96 page full color guide created just for them. New for 2010/11, we proudly introduce our welcome to Washington format! Complete with setup info, metro map, newcomer groups, hospital info, extensive museum and performing arts center listings, metro area music venues, county/city parks, support phone numbers and more, this is the first and only free distribution newcomer's guide specific for metro DC families of all ages.
Updated annually and distributed directly though family friendly businesses, libraries, government/relocation agencies, and medical facilities, The Family Phone Book is a 'must have'!
It is an invaluable resource for families moving to the DC area as well as long term residents curious to discover more of the fabulous services and activities in DC/MD/NOVA! From pre-birth – eldercare and everything in between, nothing has been missed. Finally, a quick and easy reference guide for metro DC families….no more searching…the answer book is here!
THE FAMILY PHONE BOOK – WELCOME TO DC GUIDE!
11654 Plaza America Drive, #133, Reston, VA • 20190 703.242.7243
http://www.thefamilyphonebook.com info(at)thefamilyphonebook(dot)com
# # #