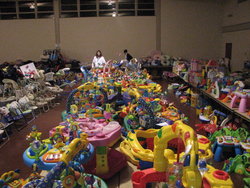 Children don't stop growing in a tough economy.
Phoenix, AZ (PRWEB) June 24, 2010
Just Between Friends (JBF), the nation's leading maternity and children's consignment sales event is now accepting consignors for their inaugural event in Phoenix this Fall. This announcement comes as good news to those parents who are struggling to make ends meet in the current economy.
"Just Between Friends is not just about having fun and shopping," said Amy Jordan, coordinator of the Phoenix sales event. "JBF helps more than 260,000 moms and dads across the US make money on their children's outgrown and unused items, so that they are able to purchase what they need for the next stage, the next size or the next season. Children don't stop growing in a tough economy."
The JBF sale events, which are open to everyone, offer pretty much anything you might need to raise a child. From clothing and baby equipment, to backyard toys and DVDs, to books and furniture, Just Between Friends provides a fun, convenient and well-organized event that is eagerly anticipated by families all over the country. Consignors (or sellers) earn up to 70% on their sold items and volunteers, who help run every aspect of the sale, get to shop the bargains first, before the public.
For those who are not familiar with the national phenomenon known as Just Between Friends, you are invited to go to http://www.jbfsale.com and sign-up on each mailing list for every event you are interested in attending. Everyone on the mailing list will receive a free admission pass for the first public sale day of that event, which is the only day that an admission is charged.
The upcoming Phoenix event is planned for:
October 14-16, 2010
Postal Workers Social Club, 3720 W Greenway Road, Phoenix, AZ 85053
"Helping others recycle their family's gently-used items is such a rewarding way to meet and network with bargain-savvy moms in our community," said Jordan, "We have so much fun helping others that it's almost like a family reunion instead of a huge community sale."
If you would like to find out how you can get involved, please go to http://www.jbfsale.com for more detailed information. JBF has been featured on television by ABC News, Good Morning America, CNN Headline News, Inside Edition, The Big Idea and several other reputable news programs. These sales benefit, in part, non-profit organizations in the Phoenix metropolitan region.
High-resolutions are available upon request.
Amy Jordan is available for interviews at any time.
# # #