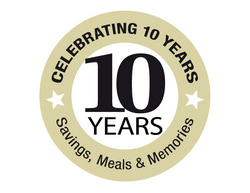 Trece represents how a unique vision paired with fine culinary talents creates not just a great meal, but an unforgettable experience
Arlington Heights, IL (PRWEB) June 23, 2010
Restaurant.com today announced that Trece Mexican Kitchen and Tequila Lounge has been named the featured restaurant for June for the "Restaurant of the Month" program. The restaurant's unique background, award-winning reputation and commitment to putting an unconventional twist on traditional dishes all weighed into the restaurant's selection for the recognition program.
Through the Restaurant of the Month Web page, site visitors can learn about the "lucky" significance of the restaurant's name and what Creating Chef Amador Mora calls a "Lux Mex" menu. In addition, site visitors can learn about Mexican cuisine and discover other Mexican restaurants throughout the country on the Restaurant.com program.
"Trece represents how a unique vision paired with fine culinary talents creates not just a great meal, but an unforgettable experience," said Cary Chessick, Restaurant.com president and CEO. "Restaurant.com is so pleased to recognize a restaurant founded on both vibrant creativity and superior food."
The Restaurant of the Month selection process is based on criteria including the restaurant's popularity with diners, high standards for service, unique cuisine, memorable ambiance, history and more. The restaurant was founded in 2007 by Robert Colombo and is located in Dallas's Knox-Henderson area. Trece, Spanish for "13," was named by Colombo for the last two digits of the restaurant's street address and the amount of ingredients in two of Creating Chef Mora's signature dishes. The number 13 also had significance for Colombo as it was the number he wore as both a high school and college baseball player. He then decided to name the restaurant the Spanish translation for what seemed destined to be his "lucky" number.
In addition to the unique circumstances that named Trece, the restaurant is committed to serving one-of-a-kind cuisine, which Trece refers to as "Lux Mex." Creating Chef Mora combines the authentic flavors of his native Mexico with lavish ingredients to create dishes such as Trece's signature Nachos Amador con Langosta--Lobster Nachos served with roasted tomato salsa and jalapeno jelly. Trece's famous guacamole is prepared tableside on a special cart outfitted with fresh avocados, house-roasted tomatoes and peppers, smoked jalapeños and a variety of other delicacies.
"From the moment our guests walk through the door, our goal is to offer them an exceptional experience for all their senses," said Robert Colombo, founder of Trece. "Restaurant.com allows Trece to share this experience with as many people and helps us reach diners we ordinarily would not be 'lucky' enough to meet."
As part of the recognition as the Restaurant of the Month, Trece is featured on the Restaurant.com homepage with a link that directs site visitors to the "Restaurant of the Month" Web page (http://www.Restaurant.com/Trece). The Web page offers a gallery of Trece photos and historic information about the origins of Mexican cuisine - the third most popular cuisine type searched on Restaurant.com. In addition, Restaurant.com includes a search box of popular cities on the page so site visitors can search for local Mexican restaurants and explore many other options in the Restaurant.com program.
Throughout 2010, Restaurant.com is paying tribute to devoted customers, restaurant partners, clients, staff and community members through a series of 10 year anniversary activities. The Restaurant of the Month program continues the celebration. Trece joins, Phillips Seafood Restaurants, The Claddagh Irish Pub and Fior d'Italia as honored restaurants since the program's launch in March. To learn more about the Restaurant of the Month program and the spotlighted restaurant for June visit: http://www.Restaurant.com/Trece.
About Restaurant.com
Restaurant.com is the trusted and valued source connecting restaurants and diners nationwide. The company offers savings at more than 15,000 restaurants nationwide with more than 29,000 daily gift certificate options. Restaurant.com brings people together to relax, converse and enjoy well-prepared and -served meals at affordable prices. To date, Restaurant.com customers have saved more than $100 million through the gift certificate program. Restaurant.com has operated since 1999 and is based in Arlington Heights, Ill.
###