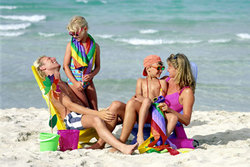 "After a long period of belt-tightening, people aren't waiting for the news to tell them whether or not the economy is turning around. They want to vacation this summer!" says Beth Henzler, partner, The Vacation Company
Hilton Head Island, SC (PRWEB) June 24, 2010
Inquiries and bookings for Hilton Head vacation rentals have risen sharply in recent weeks. After holding out through severe winter conditions and a lackluster economy, Americans feel ready to reward themselves for good behavior. According to a Vacation Company spokesperson, "the travel and tourism market has turned around dramatically this month. As Hilton Head continues to stand out as a premier family destination, we are seeing reservations climb exponentially."
Experts maintain that the steep increase in vacation planning is a good indicator of a healing economy. With only half a year behind us, and at least two major geological disasters to recover from, people understand the importance of spending quality family time together. This is great news for the industry, as we haven't seen numbers spike like this in years. It is certainly a sign that people are feeling much more hopeful about the future, that they are planning a leisure event or family vacation rental.
Does this translate to more revenue for other Hilton Head merchants and property owners? Absolutely. The sharp up-tick felt in the real estate market has had a ripple effect on the vacation travel industry. The last-minute reservations can make or break the financial outlook for many business owners. Many travelers are capitalizing on the special hot deals on vacation rentals being offered at the Vacation Company this year, like the $300 discount on a weekly oceanfront villa when available.
Founded in 1987 on Hilton Head Island, The Vacation Company is a short-term rental and property management firm that handles 300 top-quality villas and custom homes on Hilton Head Island. As one of the fastest-growing vacation rental companies on the island, we strive to live up to the standard we have set and beyond when it comes to providing the best service to our guests and excellent returns for our property owners.
Contact: Carmen Hawkins DeCecco
# # #