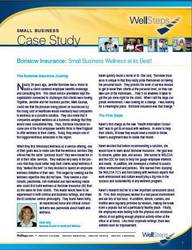 "The thought of doing this myself was overwhelming, we needed a partner who would alleviate a lot of the administrative burden. WellSteps took over all the heavy lifting and made it so easy for us."
Salt Lake City, UT (PRWEB) June 23, 2010
There are over six million small businesses in the U.S. and almost none of them have an employee wellness program. Small companies pay more for employee health care and are impacted more by employee absenteeism. With just 22 employees, Borislow Insurance sailed into uncharted waters when it implemented a low cost small business wellness strategy. The process and outcomes of this strategy are the subject of the Small Business Wellness Case Study.
For many small businesses, wellness may not seem feasible. Trying to change company culture and employee behavior is not easy. However, Borislow Insurance demonstrated that by applying evidence-based wellness strategies, even smaller companies can make positive changes in a relatively short period of time.
Wellness program outcomes showed that the average amount of exercise per employee almost doubled. Employees also reported dramatic increases in fruit and vegetable consumption, improved sleep, less alcohol use, and a 30% reduction in job related stress.
All of these improvements have been shown to reduce health care costs and absenteeism, and increase productivity.
Borislow employee Karen Kelly who was asked to oversee the program stated, "The thought of doing this myself was overwhelming, we needed a partner who would alleviate a lot of the administrative burden. WellSteps took over all the heavy lifting and made it so easy for us."
Once believed to be a business strategy exclusively for large companies, this case study proves that all of the benefits of an effective employee wellness program are now available to small businesses as well.
About WellSteps:
WellSteps is a turnkey wellness program that helps employees adopt and maintain healthy behaviors
For interviews contact:
Dr. Troy Adams
Chief Operations Officer
(602)369-8646
troy(at)wellsteps(dot)com
# # #