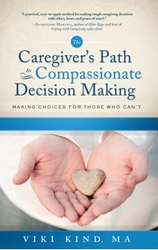 The Caregiver's Path to Compassionate Decision Making: Making Choices for Those Who Can't
New York, NY (Vocus) June 23, 2010
Susan Baida and John Mills, eldercare experts and co-founders of eCareDiary.com, will host Viki Kind, author and noted medical bioethicist, on their internet radio show "A Caregiver's Journey" Monday, June 28th at 2:00 pm EST. Ms. Kind will discuss her book, "The Caregiver's Path to Compassionate Decision Making: Making Choices for Those Who Can't," which provides guidance for families and professionals caring for elders who are losing, or have lost, mental capacity.
The radio show will broadcast John Mills and Susan Baida's live discussion with Ms. Kind. To listen in, simply call in on (347) 857-3399 or click the play button on: http://www.blogtalkradio.com/ecarediary/2010/06/28/featuring-viki-kind--author-of-the-caregivers-path.
Drawing upon her significant experience in hospitals, hospice, and home care, Ms. Kind offers reassurance and practical tools to caregivers. Her book will be indispensible for family members and professionals who face difficult choices as they care for elders suffering from dementia, stroke, Alzheimer's, brain injury, mental illness, developmental delay, or other mental limitations. Caregivers will find relief from guilt and confusion as they use Kind's guide to work through issues such as taking away car keys, moving to a long term care facility, and end of life issues. "The Caregiver's Path to Compassionate Decision Making" offers valuable insight for caregivers who have wondered whether they are doing the right thing, and whether they are respecting the values and choices of the incapacitated patient or family member.
"The Caregiver's Path to Compassionate Decision Making" has been praised by top eldercare authorities such as AARP's Dr. Harry R. Moody, Stanford University's D. Moira Fordyce, elder law attorney and law professor H. Todd Whatley, and many more.
Vicki provides bioethics consultation and support for several hospitals in the Los Angeles area. She is also a member of the Los Angeles County Bar Association's Bioethics Committee and the Southern California Bioethics Committee Consortium. She holds a master's degree in bioethics from the Medical College of Wisconsin and a bachelor's degree in speech communication from California State University at Northridge. She also has specialized training in mediation and cultural negotiation from Pepperdine University and UCLA.
The husband and wife team of John Mills and Susan Baida launched eCareDiary.com in 2009, blending their extensive backgrounds in health care, business, and as family caregivers. The new website was born of their shared mission to help other families struggling to provide top-quality long term care for their loved ones. While caring for their aging relatives, John and Susan navigated the challenges and unexpected rewards that come with providing care at home.
Despite decades of experience in the healthcare sector, John and Susan found the task of coordinating care for their parents uniquely and unnecessarily challenging. eCareDiary was developed to help all caregivers (and patients) navigate a process that can be confusing, difficult and stressful. The site's goal is to empower families with information, tools and resources to help them become better health managers and advocates for their loved ones.
eCare Diary was named a 2010 Caregiver Friendly Award recipient. Caregiver Friendly® Awards are presented by Today's Caregiver magazine to celebrate outstanding books, media, products and services designed with the best interest of the family caregiver in mind.
For tools to keep track of medication and doctor's appointments, as well as information about living wills, legal documents, home care, or "senior care" visit us at eCareDiary.com.
###