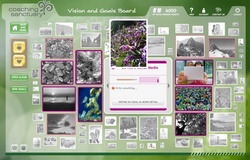 "Women can think of Coaching Sanctuary as a space between a self-help book and one-on-one life coaching sessions, without the added cost."
San Francisco, CA (PRWEB) June 25, 2010
Coaching Sanctuary http://www.coachingsanctuary.com, an interactive online life coaching service for women, launched today, taking personal transformation to a new level. The new application is designed for women who have entertained the idea of working with a life coach, but have avoided it due to high associated costs and time/schedule restraints, as well as those who aren't quite comfortable taking the step of seeing someone in-person. Coaching Sanctuary provides an affordable, self-guided solution that can be accessed anytime in the comfort and privacy of the home.
"Women can think of Coaching Sanctuary as a space between a self-help book and one-on-one life coaching sessions, without the added cost," said Bettina Jetter, co-founder and creator of Coaching Sanctuary. "We wanted to create a comfortable place where women could reap the same benefits that come from in-person coaching and experience ongoing support surpassing what a book can offer, without having to spend a lot."
I feel stuck in life – how can I get out of this rut and live with more joy and fulfillment? What can I do today to start achieving my goals? Where can I find guidance to help me plan a life with purpose? These are questions faced by women every day. Through Coaching Sanctuary's multi-level subscription-based program, women will find answers to these uncertainties and gain a sense of self and purpose, while experiencing transformation, forging friendships and collaborating with peers.
"Coaching Sanctuary has become my inspirational confidante on the road to self rediscovery," said O. Bishop of San Francisco. "I'm glad to be part of its evolution into a community, where we can all grow and spiral up together."
Coaching Sanctuary supplies powerful tools complete with the personalized multi-level coaching "Journey" which includes the "Spiral Up Process" of Coaching Pioneer, Wendy Wallbridge, and provides targeted exercises and practices for the transformation process. Women will experience growth and personal fulfillment along the way, while being able to move at their own pace and tailor ongoing programs to fit their specific needs.
Features/Tools
•Community Board – a content related message board with user-generated content from like-minded women that inspires discussion and comments about shared goals and experiences
•Goals & Vision Board - helps users set personal goals, schedule practices and actions and visualize their new life with customized photos and images
•Journal – a place for users to capture thoughts, feelings, and experiences as they move through the process; inspiring quotes, words and images help jump start journal writing and a timeline provides for reflection on previous entries
•Journey – personalized self-guided transformational program consisting of the "Spiral Up Process" from Wendy Wallbridge and enabling individual transformation; variety of levels available
•Privacy protection – extra layers of security matched with individual password protected user accounts provide total privacy and a sense of peace and comfort during use
•Aesthetically pleasing and fun interface – designed specifically for women, by women, the user-friendly site is easy to navigate and suitable for all levels of computer experience, complete with customer support and free of disruptive advertising and pop ups
Coaching Sanctuary offers a primary subscription (starting point for every user), and different levels of the transformational program that correspond with the needs of users and their desired level of growth. The primary subscription costs $127 annually and includes a foundation for all levels of "Journey," complete with the "Spiral Up Process," as well as preliminary videos and key content/tools to set the stage for each phase of progression. When users are ready for the next step, Levels-One, -Two and –Three of "Journey" can be added-on for a one-time package fee of $98.70, each individual level is $47.
For more information about Coaching Sanctuary and/or to request an interview with Bettina Jetter, please contact Kaity Ocean at Kaity(at)ocean-pr(dot)com or 775-787-9257.
About Coaching Sanctuary Founders
Coaching Sanctuary is the creation of Bettina and Mike Jetter, and came to fruition as part of a series of projects resulting from Mike's diagnosis of Leukemia and the couple's realization that life is finite and time is precious. Throughout the process of Mike's illness and recovery and experiencing numerous life transitions, the Jetters discovered that positive change must come from within and decided they wanted to create meaningful products that positively impact people's lives. Coaching Sanctuary is a space where people can experience that change in the way they work, think and live day-to-day.
Prior to creating Coaching Sanctuary, the Jetters invented Mindjet, a technology company designed to make a significant difference in the way people use their computers to produce results, along with its flagship product MindManager, the leading application for mind-mapping and visual collaboration worldwide. Following Mindjet's launch and successful growth, the Jetters co-authored an inspirational book, The Cancer Code - How a Journey Through Leukemia Led to a Software that Changed the Way People Work. Their story has been featured in the Wall Street Journal and the Financial Times among other press. In 2004, the Jetters received Ernst & Young's Entrepreneur of the Year Award for Information Technology in Germany.
# # #