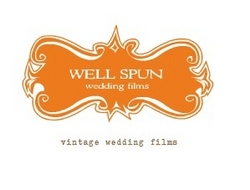 "My goal is to create a film that actually gets watched," says Jon Gangwer, Founder of Well Spun Weddings.
Ambler, PA (PRWEB) June 29, 2010
As the official start to summer commences, so too does the official wedding season, with brides and grooms searching for the perfect reception elements. While couples are selecting the ideal vendors to make their big day unforgettable, Well Spun Weddings urges them to look past the wedding day by selecting a modern take on the wedding video that allows the bridegroom to relive the event over and over again.
Have you ever dreamed of starring in your own movie? Well Spun Wedding Films can make brides Hollywood dreams come true. Well Spun uniquely goes where no wedding videographer has gone before – and hires television and film professionals to film weddings, giving each video a true theatrical, inspired, emotional feel. When a couple works with Well Spun to shoot their big day, they receive the exclusive access to highly talented television and film professionals, as well as a "producer" that ensures the end result is a true masterpiece. The couple, producer and camera man are in communication from the day the contract is signed – to the wedding day – through editing in the studio. A couple can truly write and direct the script of their own love story.
Well Spun offers a unique impressionistic approach to the traditional wedding video, providing discerning brides with a short movie-like film that focuses on the emotions and spirit of the day, as opposed to simply just the event. The end product is a hybrid of a short documentary film & music video, with an experimental quality.
"My goal is to create a film that actually gets watched," says Jon Gangwer, Founder of Well Spun Weddings. "Each bride has a distinct vision for their wedding aesthetic and a personalized wedding film provides them with the opportunity to share their unique day with friends and family long after the reception. We focus on all of the little elements from the day that directly transplant the love and energy to those who watch the film."
Today's brides are hip and savvy and want that to be reflected into their event - from ultra modern logos, embellishments, menu and floral designs. Well Spun Weddings submits perhaps the most distinguishing contemporary asset, by allowing brides and grooms to share their wedding virally. Well Spun creates a hyperlink that can be forwarded via email, added to a Facebook page, shown on an iPhone or iPods and integrated into the couples daily lives at the touch of a mouse.
Whether the bride is tech-savvy, eco-chic or prefers a classic vintage feel, Well Spun Weddings will create a short experiential film with artistic integrity that is beautifully inspiring and timelessly captivating. For those DIY (do-it-yourself) brides - friends or family members attending the wedding can record the day with their own video camera, and for a fraction of the cost, can send their footage in to Well Spun to be edited into a classic vintage film.
"The wedding day goes by in a flash and I think this is the best way for newlyweds to relive their wedding day. Our films become a sort of frame work that people can attach the various fragments of memories to, serving as a valuable tool in organizing their memories of the wedding day," says Gangwer.
Well Spun Wedding Films is the right choice for the modern bride with classic taste, who is not just looking for a typical wedding videographer. In fact, Well Spun is anything but typical. Due to the personal nature of the events, Jon and the entire staff at Well Spun sees their clients as extended family all working towards the end goal of making the wedding the most perfect day for the bride, groom and the entire family.
"I created the company after my wife and I struggled to find a videographer for our own wedding," says Gangwer. "Similar to the couples I speak with daily, we did not want an out-dated wedding video, it just did not reflect who we are as a couple. Most every wedding video company has full-time wedding videographers and when the sole focus of your work is only weddings you start to get a sort of 'snow blindness'. We are so proud to be able to offer film industry professionals with a diverse perspective for brides and grooms to produce a unique, vintage film that encompasses their day and the love they share."
About Well Spun Wedding Films
Philadelphia-based filmmaker and owner of Well Spun Wedding Films, Jon Gangwer, is revolutionizing the wedding video production industry with simplicity and passion. As one of the few select nations' filmmakers who offer Super 8-style wedding films, Well Spun specializes in a unique editing style with affordable options, including a one-song film, three-song film, mini-documentary and a TV-style production. With its beginnings in Philadelphia, Well Spun also offers its services in 8 different cities (Philadelphia, New York, DC, Miami, Boston, Chicago, LA, San Francisco), as well as traveling to international locations. For more information, visit http://www.WellSpunWeddings.com.
###