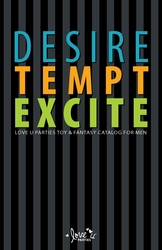 "It is part of our mission to be inclusive of individuals of every race, size, gender, orientation, religion and culture," Love U Parties President Ducky Doolittle said.
Los Angeles, CA (PRWEB) June 23, 2010
Love U Parties reaches out to male consultants and customers – a demographic most pleasure party companies overlook – to provide the best male-centric sexual wellness products while also supporting men of all sexual identities in their quest for secure self-employment with a social mission.
"While we will always sing the praises of women, we also want to welcome men with that same warmth," Love U Parties President Ducky Doolittle said. "Men are just as important as any other person who comes to Love U looking for pleasure products or to start their own businesses. It is part of our mission to be inclusive of individuals of every race, size, gender, orientation, religion and culture. Ten percent of our sales force is men. And the majority of our customers are partnered with men."
Love U Parties and its new "DesireTemptExcite" catalog offer men a unique shopping experience with an educational twist, making available products they've never seen before while showing them specifically how these tools can enhance their bedroom experiences, no matter with whom they share their beds.
"The product lines of other companies haven't really reached out to men," Love U Parties Vice President Metis Black said. "Toys aren't just for women, massagers aren't just for women, but no one is informing men how to effectively use these tools to enhance their day to day lives. Love U is in business not just to sell a product, but to explain how each tool plays a significant – and mind-blowing – role in their personal lives."
"DesireTemptExcite" features the adult product industry's highest quality products made with men in mind, highlighting manufacturers that offer unique items that serve the male market without excluding its female counterpart.
"There is a wide variety of products, but while this catalog is geared toward the male population, gender is fluid," Doolittle said. "There are items in the catalog that will appeal to the gay male population, but a person of any gender or orientation will find plenty of pleasure inducing items within these pages."
Romaine Patterson, popular satellite radio show host and Love U Parties' first Independent Consultant (IC), said she joined the Love U team to help men and women navigate the muddy waters of sex, but also to work with a company that recognizes and understands the needs of men.
"Guys are no longer on their own trying to figure out which toy is going to work for them," Patterson said. "Now, they have access to a whole country of Love U ICs who are more than willing to help them find that perfect product."
Doolittle said many of her ICs came to Love U Parties after working for and feeling frustrated by the conservative nature of other companies in the industry, and that Love U's young, modern and progressive take on the brown bag party business sets it apart from the rest.
"Our men's catalog, "DesireTemptExcite," is one of many ways we are changing the landscape in our industry," Doolittle said.
Love U Parties will present "DesireTemptExcite" and its product line at several pride celebrations around the country, including the upcoming Seattle Pride festival June 25-27 and Twin Cities Pride event June 26-27.
Love U Parties currently are available in 23 states and Puerto Rico.
More information, including how to sign up to be an independent consultant or host your own Love U Party, can be found at http://www.loveuparties.com.
###