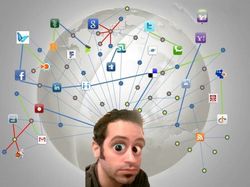 TellCasT™ pushes our clients' content out to 350 social media sites instantly.
San Diego, CA (Vocus) June 24, 2010
Marketing solutions expert Mike Harris announced today from San Diego that his firm has launched TellCasT™, a social network broadcast service using advanced marketing technology.
"TellCasT™ pushes our clients' content out to 350 social media sites instantly." Harris said. "At the same time it eliminates a large chunk of marketing labor and related costs. It allows our clients to 'create once, publish globally' which, in turn, creates a number of significant benefits for search engine optimization and lead generation."
TellCast is available as a monthly service, he said. Clients can use the service to distribute press releases, videos, white papers, podcasts, blogs and virtually any type of media.
A key benefit of TellCast, Harris continued, is that it can replace expensive pay-per-click (PPC) advertising with a better solution at a far lower cost. TellCast is designed to substantially improve organic search rankings by accelerating the creation of inbound links through social media. In addition, TellCast helps clients organize content with the right tags and improve keyword density.
"Compelling, keyword embedded content is the number one driver of new, search related sales leads because it increases market reach and penetration," Harris continued, "Without a tool like TellCast a company can certainly distribute content to social media manually but that method is highly labor intensive and uses up valuable marketing resources."
When search engines crawl a company's keyword embedded content on credible social media sites they will associate that content with the company's website and landing pages, Harris said. As long as the company's content is truly useful those search engines are going to rank a company's sites and landing pages higher each time it finds the keyword embedded content.
"We were skeptical ourselves until we started using TellCast," Harris said. "But in the first month our web traffic was up more than fifty percent and by the end of the third month we were up more than one hundred forty percent. We instantly decided to start offering this to our clients."
About The Company
Founded in 2002, San Diego based Harris Consulting LLC is pioneering a new breed of marketing solutions company. The firm has fused C-level consulting, powerful new marketing technologies and a highly talented mobile workforce to bring clients faster marketing throughput, a much wider array of marketing choices and significantly lower costs than can be achieved in-house. HCLLC's services are flat fee and include marketing and strategy consulting, interim marketing VPs in San Diego and throughout Southern California and monthly marketing services including content. The company's website can be viewed at Harris Consulting LLC.
###