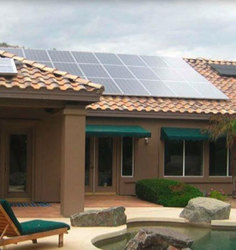 "We are having record breaking months and it looks like everyone is looking to go green and save money." Preston Hansen CEO Sky High Energy
Scottsdale, AZ (PRWEB) June 28, 2010
Sky High Energy has seen a massive increase in Arizona solar contracts despite APS and SRP lowering the rebate amount on solar systems. This demand has caused record breaking success for the Scottsdale based company, and there's no end in sight.
In early April APS started lowering the rebate amount for residential solar systems similar to SRP's move which caused an influx of rebate requests. APS's move to lower solar rebates was generated by market demand and remaining funds left. And make no mistake, funds for the solar rebates are running out.
Preston Hansen, CEO of Sky High Energy LLC says "We are having record breaking months and it looks like everyone is looking to go green and save money. " The future for Arizona solar power looks bright, no pun intended, and Sky High Energy is ready to meet the demands of all Arizona residents. Phoenix solar demand is by far the largest in the market but there has been a rise in Tucson and Flagstaff solar contracts.
Solar contracts also mean new jobs for Arizona. Arizona Solar Companies are seeing a labor shift from the construction industry as more people are looking for jobs after the real estate market burst. Solar jobs in Arizona will help the job market recover and keep the unemployment numbers down as Arizona moves forward on the road to economic recovery.
Sky High Energy specializes in custom solar systems for both residential and commercial applications. Serving all of Arizona Sky High Energy specializes in the Phoenix Metro, Tucson, and Flagstaff areas. If you are thinking about installing solar for your home or business Sky High Energy will send one of their industry experts out to determine how solar energy can save money and help the environment.
###