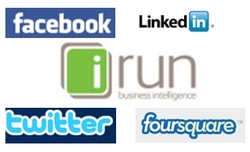 (PRWEB) June 29, 2010
Irun Business Intelligence, based in Monmouth, is supporting businesses in South Wales with a full range of internet marketing services. Irun Business Intelligence's latest service is to offer businesses the opportunity to outsource all or part of their internet marketing and social media activity. The emphasis is on making life easier for business owners; so Irun Business Intelligence will plan, design and manage Social Media campaigns, business promotions, website content, blogs, newsletters, customer lists and Press Releases. Irun Business Intelligence will even manage Twitter, Facebook, Foursquare and LinkedIn for its clients.
Irun Business Intelligence also ensure that key employees are fully briefed and customers informed about all marketing activity conducted by its clients.
The impact of this on the business proprietor, is to free up a lot of time which would otherwise be spent on these activities. The business can then concentrate on customer service, closing sales and all those other essential tasks that consume time.
Irun Business Intelligence work with clients to keep them in control of their promotional campaigns and, through a process of regular reviews, measure Return on Investment. Any changes or improvements to the client's strategy can be accommodated because Irun Business Intelligence can provide every service they will need to make their internet marketing a success.
If your business is in South Wales or the Border Counties get in touch with Irun Business Intelligence here
###