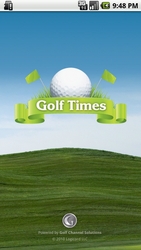 San Diego, CA (PRWEB) June 24, 2010
The new Golf Times app for Android makes it easier than ever for golfers to find tee times at their favorite golf courses. Golf Times enables users to search for and book tee times anytime and anywhere Internet access is available on their Android devices. Golf Times offers tee times at significant discounts from regular rates and helps customers find tee times with the biggest savings such as last-minute specials.
Golf Times was designed to be the most efficient way to search for tee times on an Android device. Smart filtering helps customers to pinpoint preferred tee times based on course name, number of players, or the savings percentage off regular rates. Search results can be sorted by time, course name, price, or savings percentage. Golf Times also takes advantage of Android devices with touch screens, allowing customers to quickly change the search date by making a left or right swipe gesture across the search results screen.
The booking process in Golf Times is highly optimized for mobile devices. Customers can reserve a tee time in just a few steps and receive immediate booking confirmation within the app. Customers can also access the History menu to view details for a previously booked tee time and get directions to the golf course. The Info menu includes help content, ways to submit feedback, and opportunities to stay connected with Golf Times to periodically receive news about app updates or new golf courses that have become available.
Golf Times is all about saving time and money for golfers. This first-of-kind app for Android offers the convenience of booking tee times on-the-go combined with significantly discounted prices. Golf Times is available now as a free download in the Android Market.
Logicord LLC is the creator of innovative sports and entertainment apps for mobile devices. With its popular Golf Times app for iPhone and the launch of Golf Times for Android, Logicord LLC helps thousands of golfers save time and money when booking tee times. For more information, visit http://www.logicord.com.
# # #