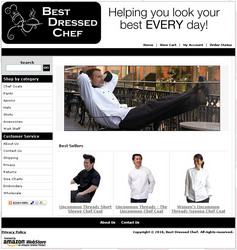 The chefs in all restaurants can now look as good as the ones in the higher end restaurants at a reasonable cost
Cranford, NJ (Vocus) June 24, 2010
Panda Apparel LLC, an online apparel retailer has launched another website, http://www.bestdressedchef.com . Best Dressed Chef is a division of Panda Apparel geared toward servicing the hospitality industry with top quality chef and kitchen staff apparel.
Best Dressed Chef has a unique collection of chef apparel offering the same high end designs typically found on the top chefs to the small restaurateur. "The chefs in all restaurants can now look as good as the ones in the higher end restaurants at a reasonable cost" says owner, Scott Marino.
Through the Best Dressed Chef line of apparel, small and large restaurant owners can outfit all their kitchen staff to look professional. With a trend in the restaurant industry toward more open kitchens, where the staff is visible to the customers, a clean professional appearance is essential. Although the economy is affecting many apparel retailers, Panda Apparel's research indicates that sales in professional grade chef apparel will continue to grow well into 2011 as the economy continues to recover.
About the Company:
Best Dressed Chef is a division of Panda Apparel LLC which carries high quality professional chef apparel.
Panda Apparel, LLC was formed in 2007 and is owned and operated by Scott and Donna Marino. The two share over 20 years of experience in the apparel industry and 12 years of online specialty retailing. All of the company's divisions are committed to protecting and preserving the environment. As an international business, Panda Apparel, LLC is committed to the improvement of the worldwide state of human rights and environmental degradation.
###