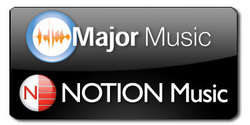 NOTION Music has made great strides in a relatively short period of time. Our relationship with Major Music now positions us to be even more successful in the years to come as we continue to develop and launch new products for musicians
Greensboro, NC (Vocus) June 24, 2010
NOTION Music Inc. has announced Major Music as their new Australian and New Zealand distributor. Based in Sydney, Major Music has been supplying hi-tech music, audio production and professional recording solutions, as well as music technology solutions since 1995.
Major Music will now have exclusive distribution rights in Australia and New Zealand for NOTION Music software products, including NOTION3 and PROGRESSION.
Kris Karra, Managing Director of NOTION Music Inc. stated, "I'm really pleased to be working with Greg Cato and his team at Major Music. Having first met Greg at the Winter NAMM show this year, we have spent time ensuring that Major Music has all the support necessary to achieve maximum sales in this very enterprising territory. Australia is a leader in music technology, especially in the education field – and we feel Major Music is well positioned to bring our software to a new audience. The NOTION Music line of products will fit nicely into the Major Music portfolio – complimenting the other products and offering a complete music technology solution.
Greg Cato, General Manager of Major Music commented "Notion Music represents an exciting development in music composition, education and performance. Educators, composers, students and performers alike will be amazed to see and hear the results possible with the Notion range of software. Major Music are very proud to be appointed Australian distributor for Notion Music, and look forward to assisting Notion's growth in our regional market."
The partnership with Major Music marks a positive step for NOTION Music while it expands its global distribution network. Reflecting on the significance of the announcement, Karra said, "NOTION Music has made great strides in a relatively short period of time. Our relationship with Major Music now positions us to be even more successful in the years to come as we continue to develop and launch new products for musicians".
About NOTION Music NOTION Music, Inc. is dedicated to the advancement of music through innovative software solutions. NOTION's award-winning software simplifies music composition, notation, and performance with the sounds of world-class musicians. NOTION Music, Inc. is headquartered in Greensboro, North Carolina, with an international office in London, England.
Major Music
Unit 7, 15-23 Kumulla Road
Miranda
NSW 2228
Australia
###