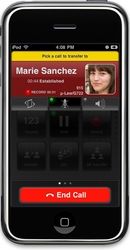 Mobile users now have access to the same great VoIP features they've come to expect from their desktop phones.
Prague, Czech Republic (PRWEB) June 24, 2010
Acrobits has just submitted their new business oriented SIP client for the iPhone to Apple. This is the mobile SIP client that business users have been waiting for. With lots of new features targeted specifically to the business user's needs, there is finally a mobile SIP client available that is capable of replacing your desktop phone.
"Customers demanded a full SIP client for the iPhone and we've delivered," says Acrobits. "Mobile users now have access to the same great VoIP features they've come to expect from their desktop phones."
Acrobits' new business client has all the features of Acrobits Softphone, as well as these great new additions:

Multitasking background support for iOS4
Transfer and attended transfer
Push Notifications, a reliable way to receive calls when the Softphone is closed
Multi line
Call waiting
Call Grouping
Conference calling
Customizable ringtones, choose from our selection or pick something from your media library
HD Wideband audio through G.722
Completely redesigned audio optimized for the best VoIP experience on the iPhone
Number rewriting, enabling you to utilize your existing contacts without having to create new entries to satisfy the dialing requirements of your PBX or SIP provider
Address Book Matching to automatically format your contacts into the proper international format
TLS support for encrypted SIP
The first release of Acrobits Softphone Business Edition will be by invitation only. Acrobits is looking for tech bloggers and experienced technicians from large SIP providers to thoroughly test and comment on the new client. If you'd like to apply for an early look at this exciting new client, contact them at beta(at)acrobits.cz and include a brief introduction.
Now that they've become the leading developer of SIP apps for the App Store, Acrobits has set its sight on Android users. They're working on a version of their popular Acrobits Softphone for Android, to be available on the Android Market in the coming months. You can be sure a business version for Android won't be far behind.
About Acrobits
Acrobits is a privately owned software development company with a focus on mobile software development. The company is based in Prague, Czech Republic and was established in November 2008. Three of its founders have been working as a team since 2003 and have developed several award-winning applications for a wide range of mobile devices. In 2008, they teamed up with a Swiss entrepreneur and pioneer of VoIP technology and together they founded Acrobits. Acrobits Softphone is their flagship product.
###