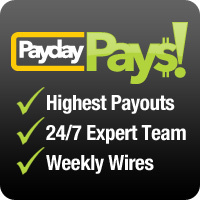 Philadelphia, PA (PRWEB) June 25, 2010
PaydayPays! is excited to announce the launch of its new affiliate program this month. This fast-growing company generates high quality leads for advertisers in the payday loan industry and is welcoming new affiliates to its network in celebration of the new site launch.
PaydayPays! owns the best online payday loan offers in the industry which Affiliates are paid on a commission basis to promote. The high quality PaydayPays! network provides Affiliates with the highest conversion rates on its offers and best benefits of any existing payday loan affiliate program. The company also boasts an experienced support staff to personalize Affiliates' campaigns to address their specific marketing needs. PaydayPays! offers advanced and detailed real-time tracking stats so Affiliates can easily analyze their visitors' activity to more accurately target their campaigns, maximizing their earning potential. PaydayPays! provides commission for every lead that Affiliates generate, and weekly payouts make high volume lead generation even simpler. Most Affiliates working with PaydayPays! achieve commissions of $60 per conversion, resulting in sizable weekly payouts.
PaydayPays! invites you to join its ever growing and high quality payday loan affiliate network as an Affiliate. Learn more about the company and sign up at http://www.paydaypays.com today.
# # #