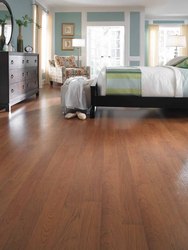 More consumers are on the hunt for retail locations that offer premium home products at bargain prices.
Chicago, IL (PRWEB) June 25, 2010
Living on a budget is the norm, rather than the exception, in the current economy. Whether you're trying to entice potential homebuyers or just want to give your living space a quick spruce up, here are a few tips for making a big impact in the look of your home without breaking the bank:
-Start small. Small improvements – like a fresh coat of paint or an attractive new floor – truly update a home because people's eyes tend to notice surface areas first. Experts agree that these upgrades make all the difference to prospective buyers as well. According to the International Association of Home Staging Professionals, investing in small upgrades can increase a home's value as much as 7 percent – and a new floor has been proven to return nearly twice the value for every dollar spent.
-Shop around. From mattresses and dining room sets to LCD televisions and sofas, you might be surprised to find the home decor items on your shopping list at budget-friendly spots like thrift stores, boutiques and warehouse clubs.
For example, quality flooring is available at Sam's Club. Traditional Living laminate flooring combines low-maintenance and authentic good looks with the outstanding value pricing for which Sam's Club is known. Its glueless click installation makes Traditional Living flooring an ideal weekend do-it-yourself project – saving additional money on installation. The superior protective surface provides durability and scratch-resistance to stand up to years of heavy foot traffic from kids and pets.
-More consumers are on the hunt for retail locations that offer premium home products at bargain prices," says Sherrie Towne, assistant marketing manager of SimpleSolutions, LLC, which distributes Traditional Living. "For example, the cost of a Sam's Club membership plus the cost of Traditional Living laminate floors is approximately 30 percent less than the price of premium laminate purchased at another retailer."

Accessorize, accessorize, accessorize. If a new sofa or coffee table isn't in the budget, infuse a room with energy and color by adding simple finishing touches like pillows, artwork and rugs. Flea markets, estate auctions and garage sales are unexpected sources of one-of-a-kind – and often inexpensive – accessories that add color and personality. In the bathroom or kitchen, swap out existing hardware on cabinets and drawers to quickly create a more up-to-date look.
-Clear the clutter. Piles of papers, toys and books can detract attention from the unique items that make a house a home. If your space – and your budget – is tight, organize everyday items with furniture that pulls double duty such as a storage ottoman or a bookshelf with built-in compartments. And if you're putting your home on the market, professional home stagers suggest removing one-third of furniture from public areas like living and family rooms to create the illusion of extra space.
For more information on the Traditional Living collection, visit http://www.traditionalliving.com or http://www.samsclub.com.
###