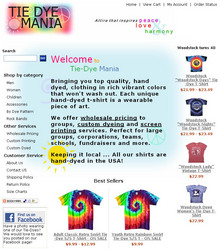 Our offerings include everything from red, white and blue patterns for the 4th of July, shamrocks for St. Patrick's Day and to pink ribbons for Breast Cancer Awareness
Cranford, NJ (Vocus) June 25, 2010
Tie Dye trends are hotter than ever with Patriotic tie dye designs leading the way. Tie Dye remains a fashion trend that is both nostalgic and current at the same time. The looks for tie dye continue developing into the fashion mainstream. The current hot theme is the patriotic color combinations of red, white and blue.
For Scott Marino, owner of Tie Dye Mania, tie dye sales have been rising since early 2008. "The trend started out with the classic rainbow tie dye shirts and has steadily expanded with patriotic and other theme styles". For the company, the red, wild and blue tie dye swirls are one of the top sellers, followed closely by a unique patriotic peace sign tie dye.
Tie Dye Mania offers a large selection of men's, ladies and youth tie dye t-shirts for a whole host of holidays. "Our offerings include everything from red, white and blue patterns for the 4th of July, shamrocks for St. Patrick's Day and to pink ribbons for Breast Cancer Awareness" says Marino.
Our goal is to continue to grow as a specialty retailer in this market. Tie Dye Mania is proud to offer premiere quality, hand dyed clothing rich in vibrant colors. It is a steady, solid way to do business in a slowly recovering economy. All shirts are hand tied and dyed in the USA, keeping jobs in America.
About the Company
Tie Dye Mania is a division of Panda Apparel LLC which carries high quality, 100% cotton tie dyed t-shirts. http://www.TieDyeMania.com is the retail branch of the company dedicated to selling tie dye tees. The companies mission: to make the world a more interesting place, one shirt at a time.
Panda Apparel, LLC was formed in 2007 and is owned and operated by Scott and Donna Marino. The two share over 20 years of experience in the apparel industry and 12 years of online specialty retailing. All of the company's divisions are committed to protecting and preserving the environment. As an international business, Panda Apparel, LLC is committed to the improvement of the worldwide state of human rights and environmental degradation.
###