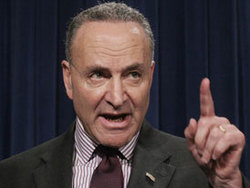 "The senator's proposed legislation shows a fundamental lack of understanding of the outsourcing industry, and business operations in general"
New York, NY (PRWEB) June 24, 2010
A new bill circulating through congress has one call center services provider up in arms. Senator Charles Schumer of New York recently authored a bill that would impose strict fees on businesses that outsource customer service operations to offshore providers. Hit Rate Solutions, a U.S based outsourcing company with contact centers in the Philippines is the latest to speak out against what it considers to be a blatant attempt at protectionism. "The senator's proposed legislation shows a fundamental lack of understanding of the outsourcing industry, and business operations in general", said Operations Director Adam Shore. "The bill would be devastating both to businesses in the U.S and in the developing world".
Schumer's bill would levy a $.25 per call tax on companies transferring calls to an offshore call center, and require the company to notify the consumer of the location of the contact center handling the call.
Shore believes the taxes are exorbitant, and the impact could be enormous. "I don't believe Schumer understands the sheer volume of phone calls placed to customer service departments", Shore continued. Hit Rate Solutions serves businesses of all sizes from large corporations to entrepreneurs and sole proprietors. "Schumer seems to think that the only companies using offshore call centers are large corporations with deep pockets. That's simply not the case".
Hit Rate Solutions' mission is to create a means for companies small and large to cut costs and increase production. Contrary to Schumer's apparent perception, most of its business has come not from companies looking to replace existing workers, but business interested in trying new methods to expand their services. The company specializes in telemarketing, customer service, data entry, and virtual assistant outsourcing. The majority of the company's clients are new to outsourcing and are in the start-up phase of their businesses.
The goal of the bill going through congress is to create a disincentive to U.S. companies interested in hiring employees offshore. Shore reiterated his belief that the legislation is misguided. "For most of our clients, the alternative to hiring offshore is to not hire at all".
###