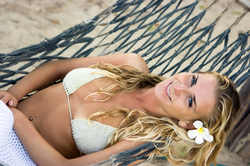 Bend, OR (PRWEB) June 29, 2010
There's no denying the fact the world is a stressful place. The stress caused by the slow economy, high unemployment and peoples overscheduled social lives take their toll and can manifest both mental and physical health issues. To avoid this, RockinHammocks.com knows it's important to take some time out now and then for rest and relaxation. When a vacation isn't in the cards, there are other ways to decompress - and one of the healthiest ways to relax is in a hammock.
There are some significant health benefits which come along with using a hammock, which is something the recently launched website RockinHammocks.com is dedicated to sharing with the community. The site provides information on the beneficial effects of using hammocks; namely, stretching the spine, improving concentration, preventing and relieving muscle aches and pains and of course, reducing stress.
RockinHammocks.com offers a carefully selected assortment of quilted and rope hammocks as well as hammock stands, pillows and other accessories from the popular brand Hatteras. In addition to hammocks, the new site also offers hanging chairs and the Award Winning Urban Balance collection from Outback Chair Company. The staff of RockinHammocks.com personally select every product for quality and performance.
Clearly, this is a company on a mission to promote relaxation and good health through hammocks and hanging chairs. Everyone could use a little help decompressing from time to time - and as anyone who happens to own a hammock knows, there are few things in life which are more relaxing than lying back in a hammock and letting life's stresses melt away. In a time as hectic and stressful as today, it's never been more important to get some rest; and this is one site well worth paying a visit to.
RockinHammocks.com is dedicated to helping people relax and enjoy life through the highest quality, hand-selected products which promote relaxation and better health as well as industry-leading customer service and a safe, easy online shopping experience.
To learn more about RockinHammocks.com and to see the company's line of hammocks and other products, please visit: http://www.rockinhammocks.com
# # #