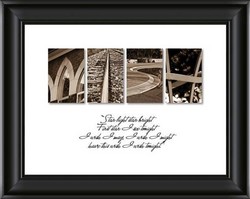 The Children's Wish Foundation of Canada is a charity near and dear to my heart, and I am honoured to support this charity and help children realize their dreams.
Niagara Falls, ON (PRWEB) June 25, 2010
Canadian entrepreneur Jennifer Blakeley spent three years traveling across Canada taking pictures of objects, architecture and scenery that resemble letters of the alphabet. Now, the brainchild behind Alphabet Photography is giving back. Blakeley has teamed up with The Children's Wish Foundation of Canada to support its various chapters across the country.
"The Children's Wish Foundation of Canada is a charity near and dear to my heart," says Blakeley. "I am happy to support and raise money for this very deserving charity. The monies raised from our photo art Wish Series will go a long way in helping hundreds of children to realize their dream."
Alphabet Photography sells pictures of objects and scenery that resemble letters of the English Alphabet. The alphabet photos are then customized to spell words and names chosen by the customer. As part of the Children's Wish Foundation initiative, Blakeley created a "Wish Series". The Wish Series is compromised of three individual and unique photo art frames, spelling the words JOY, WISH and DREAM in Alphabet Photography, and includes a quote relevant to each individual word. For example, the word dream includes the quote: "Dreams come a size too big, so that we may grow into them".
Starting now (until the end of August), all proceeds from customers who purchase an art piece from the Wish Series at Alphabet Photography (http://www.alphabetphotography.com) (AP) will benefit the Children's Wish Foundation of Canada.
"My husband and I recently welcomed our baby girl Brooke to the world, so we understand now more than ever the stress and sadness families and children must endure when dealing with illness. Creating a Wish Series and donating all proceeds from sales from the collection is the least we can do. We encourage everyone to visit the site and help us make children's dreams become a reality," added Blakeley.
The company's letter photos have become popular gifts at weddings, baby showers and housewarmings. Custom creations retail for $139.95 and can be purchased through their website http://www.AlphabetPhotography.com.
Alphabet Photography's newest addition to the product line up are the Photo Collage Frames which allow you to insert your own photographs to frame and preserve the moments in life that are most important to you. They include the most popular Alphabet Photography Inspirational Series prints and surround them by two 4x6 openings to let you add a personal touch to the frame with your own photos.
About Alphabet Photography (http://www.alphabetphotography.com/about_us.aspx)
Headquartered in Niagara Falls, Ontario, Canada, Alphabet photography is the creative process of photographing images that resemble letters of the English Alphabet, then arranging the photographs together to create a name or word. Alphabet Photography is the brainchild of Jennifer Blakeley who has spent the past three years growing her portfolio of alphabet looking objects from all over North America.
For additional information, visit Alphabet Photography on the web at: http://www.AlphabetPhotography.com
###