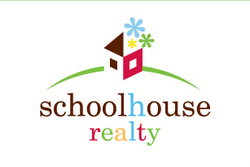 "From start to finish the both of you have impressed us with your knowledge, skills, and friendliness."
Solana Beach, CA (PRWEB) June 25, 2010
Schoolhouse Realty, Inc., a San Diego County real estate firm, announced today that it's reached $30,000 in donations to schools and other non-profits that aid children. The teacher-owned real estate company offers a charity-driven business model, donating ten percent of each net commission earned to the school of each client's choice.
As "philanthropreneurs", Gaby Preston and Shannon King, founders of Schoolhouse Realty (2008), are dedicated to giving back to the community while doing work that they love: helping clients buy or sell homes in the San Diego area. Motivated by their backgrounds teaching public school, Preston and King are passionate about supporting education, filling a critical need as schools are forced to cut programs and lay off teachers due to budget cuts. A recent client who is also an elementary teacher says, "My students are truly very excited to use a portion of the funds for an educational field trip." Reaching the thirty thousand dollar mark this month, Schoolhouse Realty is working toward the goal of over one million dollars in school donations.
Recent donations include $1602.00 to Adams Elementary in Normal Heights, $1195.00 to Flora Vista Elementary School in the Encinitas Unified School District, $982.50 to the music program at Mira Mesa's Mason Elementary and $875 dollars to benefit the Monarch School downtown (a school dedicated to educating homeless and at-risk children). This week, Schoolhouse Realty donated $1132.50 combined to Madison High School's PTSA and Foundation in San Diego, along with a first time donation of $820 to Crestview Elementary in Vista. Past donations include The Preuss School at UCSD, San Diego City College, The University of Pennsylvania, Stanford Law School, San Diego City Libraries, Paloma Elementary PTO in San Marcos and Harborside Elementary School in Chula Vista.
With a new office in Solana Beach on South Cedros Ave, Preston and King are centrally located in San Diego County and ready to assist clients in finding the perfect home. Recent homebuyers Sally and Will Y. stated "From start to finish the both of you have impressed us with your knowledge, skills, and friendliness." Using their experience, resources, and enthusiasm, Preston and King help homesellers find buyers, and buyers find homes they truly love. True educators, Preston and King also host quarterly homebuying seminars for prospective buyers, focusing on education of the local real estate market and providing information to help buyers make smart decisions about real estate.
About Schoolhouse Realty
At Schoolhouse Realty, we help sellers find buyers. And buyers find homes they truly love. And we do it with skill, expertise and a personal touch the "big guys" can't provide. And that's just the beginning.
We donate 10% of our net earnings to the schools of your choice, giving you the power to strengthen your community and make a real difference in student's lives. A real estate company that puts people first. Imagine that.
Contact: hello(at)schoolhouserealty(dot)com
Phone: 858.461.1155
# # #