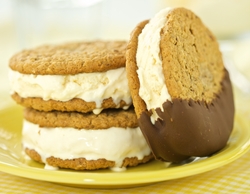 We've heard stories about how Archway enthusiasts use our cookies to make or sweeten desserts so we thought this would be a fun contest to celebrate summer traditions with Archway® Cookies
Ashland, Ohio (PRWEB) June 24, 2010
With summer schedules full of traditions like cookouts, vacations and family reunions, Americans more than ever are looking for shortcuts for baking. A recent Archway® Cookies "Summertime Desserts" survey shows 53% of persons use "almost homemade" recipes at least half the time when making desserts.
Almost homemade recipes use a combination of pre-made or store-bought ingredients (often mixed with fresh ingredients) rather than making everything from scratch. With this trend in mind, Archway is launching its Sweet Summer Treats Online Recipe Contest encouraging cookie and baking enthusiasts to share recipes that use Archway® Cookies for a chance to win a grand prize of a $250 Visa® Gift Card.
One grand prize winner will be selected in each of the three recipe categories: dessert with ice cream, dessert without ice cream and non-dessert creations, such as appetizers or muffins. Judging will be based on uniqueness, taste and incorporation of at least one Archway® Cookie. Contestants have from June 22, 2010 to August 15, 2010 to get clever in the kitchen and submit recipes online.
"Our consumers were the inspiration behind the Sweet Summer Treats Online Recipe Contest," said Holly Tolson Patterson, Brand Manager for Archway® Cookies. "We've heard stories about how Archway enthusiasts use our cookies to make or sweeten desserts so we thought this would be a fun contest to celebrate summer traditions with Archway® Cookies."
The "Summertime Desserts" survey also revealed the most common ways consumers currently use or would use cookies in desserts. These include: crushed as part of a pie crust (32%), as a topping on ice cream, sundaes, cakes or cupcakes (31%), or to make cookie sandwiches with ice cream, whipped cream or peanut butter filling (25%). Other creative ideas include as the topping on a fruit cobbler or trifle, and as part of a s'more.
To promote the contest, Archway is partnering with the popular food social network and recipe swap community, BakeSpace.com, as well as launching a series of public relations, social media and in-store activities, including outreach to baking bloggers and point-of-sale signs with coupons. For the first time, Archway will also offer a $1 off downloadable coupon to encourage participation in the online recipe contest.
The three grand prize winners will have their recipe featured in Archway® promotional materials, on ArchwayCookies.com and on the Official Archway® Cookies Facebook page. Winners will be announced by September 30, 2010.
For summer recipe ideas or information about the Sweet Summer Treats Online Recipe Contest, visit ArchwayCookies.com.
Photos & Sample Recipes Available Upon Request
About Archway® Cookies
For several decades Archway Bakeries Co. has shared in traditions of families and friends across America. The great-tasting, freshly-baked Archway® Cookies are available in more than 20 soft and crispy varieties ¾ with classic and new Archway® Holiday Cookie varieties slated to return in November 2010. The origins of Archway date back to 1936 when a husband and wife team began baking soft oatmeal cookies in their Michigan garage. Since that time, Archway® Cookies have been enjoyed as part of family traditions and moments shared between friends. For more information visit ArchwayCookies.com or the Official Archway® Cookies Facebook page.
About BakeSpace.com
BakeSpace.com is a grassroots online community for people who love to cook, bake and hang out in the kitchen. Members can post, search and swap recipes, create their own "online kitchen," share cooking tips, raid the "virtual pantry" (forums), upload cooking videos and share their passion with other food enthusiasts from around the world. They range from teenagers just starting to explore the culinary lifestyle to great-grandparents who want to share and catalogue their treasured family recipes. The site earned back-to-back Webby Award nominations in 2009 and 2010 for Best Social Network, and Webby Award honors in 2007 and 2008. For more information, visit BakeSpace.com.
###