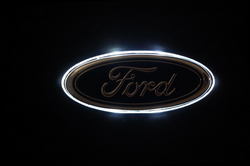 THESE LOOK AMAZING!! Stellar idea!
Houston, TX (PRWEB) June 25, 2010
Lo-Glow LLC has designed a unique product that allows your vehicle's badge to 'glow' using a super bright LED circuit. Once you have spliced into the vehicle's lighting system using quick and easy one-push connectors, Lo-Glow emits a halo of light from behind the vehicle's badge. The user has the choice of red, blue or white light to distinguish their car from anything else on the road.
Car and truck enthusiasts have been clamoring to get the latest released designs. The Lo-Glow fitting the Gen10 Toyota Corolla's comes out July 1st and orders are already being taken on the Lo-Glow website. F-150 and Mustnag owners across the globe have been receiving their Lo-Glows since the product launch in Mat 2010.
Lo-Glow is constructed of a professionally designed PCB containing the LED circuit. This PCB is married to a CNC machined acrylic that protects the components, enhances the halo-effect and is waterproof. The Lo-Glow is attached to the vehicle using the same 3M adhesives used by the original automakers.
Each Lo-Glow design is custom made to fit a specific make and model of vehicle. Sizes also differ from front to rear on the same vehicle so it is important to carefully measure the vehicle's badge before placing your order. Installation instructions can be found on our website: http://www.lo-glow.com.
###