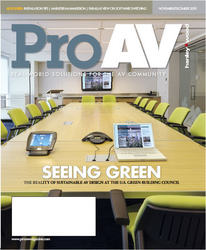 We get a lot of our best ideas from our readers, which is how we're able to serve the market better than anyone else. That's how it should be, and the ASBPE could tell how in-touch we are with our audience.
Washington, DC (PRWEB) June 24, 2010
PRO AV, the leading industry publication serving AV professionals, is a finalist for one national and three regional awards from the American Society of Business Publication Editors (ASBPE).
"It's the second year in a row that the ASBPE has honored us with multiple awards," said PRO AV Editor Brad Grimes. "We're especially proud that our feature on fiber-optic technology was recognized as one of the best technical business-to-business articles in the entire nation.
"We get a lot of our best ideas from our readers, which is how we're able to serve the market better than anyone else," Grimes continued. "I'm in fact proud to say PRO AV readers were responsible for most of these award-winning ideas. That's how it should be, and the ASBPE could tell how in-touch we are with our audience."
The Azbee Awards of Excellence honor business-to-business magazines on both national and regional levels. Editorial awards are judged on the quality of writing, reporting and editing. Design awards are judged on the layout and composition of the publication, and how easily it communicates useful information to the reader.
PRO AV is a finalist in the following categories:
National:

Technical Article, "Fiber: Truth or Fiction?" Sept./Oct. 2009
Regional:

Case History, "A True Test of Green AV," a U.S. Green Building Council installation story, Nov./Dec. 2009
Opening Spread/Spread-Photo, "Say What?" about intelligibility in mass notification systems, Nov./Dec. 2009
Regular Column, Contributed for Pete Putman's Parallax View
"This is a great and prestigious recognition of the collective efforts of PRO AV's fine editorial team," says Jon Yoffie, Associate Publisher of PRO AV. "With so many of our readers facing tremendous challenges in the current business environment, PRO AV's mission to deliver 'Real World Solutions,' has never been more important. We are very pleased that our journalism peers recognize the effort required to deliver on that promise."
In 2009, PRO AV took home three regional silver awards in the categories of Best How-To Article, Best Original Research, and Front Cover – Computer Generated.
Winners of the 2010 Gold, Silver, and Bronze national and regional Azbee Awards will be announced in July.
About PRO AV
PRO AV is the fastest growing magazine in the commercial and residential audio/video industry. A BPA-audited publication, it's read by 20,000 professional AV integrators, contractors, consultants, resellers, and their end users. Its editorial coverage focuses on the day-to-day information needs of readers, including professional advice, how-to information, tips, strategies, and tactics for working with audio, video, IT, and emerging technologies.
About Hanley Wood, LLC
Hanley Wood, LLC, is the premier media and information company serving housing and construction. Through four operating divisions, the company produces award-winning magazines and Web sites, marquee trade shows and events, rich data and custom marketing solutions. The company also is North America's leading publisher of home plans. Hanley Wood Business Media (Washington, D.C.), publishes 30 award-winning residential and commercial construction titles, including Builder, Remodeling, Custom Home, Concrete Construction and residential architect. Hanley Wood Business Media also offers the construction industry's foremost collection of Web sites, including Builder Online, Remodeling Online, and ebuild, the comprehensive online guide to building products, as well as the largest collection of house plans online through eplans.com and Dream Home Source.
Founded in 1976, Hanley Wood is one of the ten largest B-to-B media companies in the United States. Hanley Wood is owned by affiliates of JPMorgan Partners, which uses CCMP Capital Advisors to manage this investment.
###