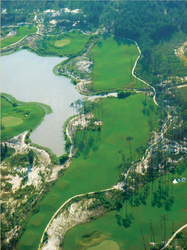 "During this economic volatility, it's even more important for those interested in buying and selling commercial real estate to contract with a licensed realty company."
New Orleans, LA (PRWEB) June 25, 2010
RE/MAX Commercial Brokers, Inc. listing agents, Richard Juge, CCIM, SIOR and Robert Hand, MBA, announce the final sale of the 939-acre Bedico Creek Golf and Country Club for an undisclosed amount. The new owner, David Waltemath, has a successful development track record in Louisiana and Florida and purchased the property in an all cash transaction.
The property is one of Louisiana's largest residential developments, but was riddled with a series of unfortunate events before Waltemath purchased the property, including Hurricane Katrina, bank foreclosure of the property, owner bank's acquisition by the FDIC and a soft commercial real estate market. In 2008, the seller foreclosed on the property. The seller selected RE/MAX Commercial Brokers to market the property, who performed a sealed bid sale, and marketed the property nationwide using a variety of proprietary marketing strategies which resulted in hundreds of inquiries and 7 written offers within 3 months. The company's agents devised a comprehensive marketing strategy to attract the best developer with the financial strength and experience to advance the project.
RE/MAX Commercial Brokers worked with the buyer to keep the project moving forward when the selling bank was taken over by the FDIC. The brokers organized a team of experts in engineering, legal and wetlands to assist in the transaction, including the organization of several meetings with the US Army Corps of Engineers to bring the 404 Wetlands Permit into compliance. When one purchaser was not able to obtain financing, RE/MAX Commercial Brokers was able to market the property quickly to bring in David Waltemath as an all cash buyer within two weeks.
"We feel confident that we have the right development group involved to foster this project into a significant asset to the Madisonville community," stated RE/MAX Commercial agent Robert Hand.
Conveniently located just South of I-12 on Highway 1085, the property will provide homeowners with convenience and serenity. The new owners have engaged a world-class land designer to prepare the property for development complete with abundant green space. The neighborhood will be surrounded by a 300-acre Conservation Area, as well as biking and walking paths, lakes and parks. Some home prices in this serene neighborhood will be over $1 million. Improvements on the property have begun and are anticipated to be completed this fall.
"During this economic volatility, it's even more important for those interested in buying and selling commercial real estate to contract with a licensed realty company," concluded RE/MAX Commercial president Richard Juge. "Our experienced agents partner with clients to ensure that their needs, along with those of the community are being met."
About RE/MAX Commercial Brokers, Inc.
RE/MAX Commercial Brokers' New Orleans area offices are professionally staffed and have ten full time commercial-only agents with decades of experience in brokerage (leasing & sales), development, consulting, and property management. We have specialists in Office, Industrial, Retail, Multi Family, Condo Development, Land, and Historic Properties. Our clients range from international corporations to local businesses, and we specialize in cooperating with other national brokers.
# # #