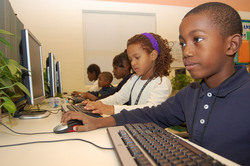 "This is an exciting time of change and growth to further serve our students," said Bill Kent Jr., executive director of YLC.
St. Louis (PRWEB) June 24, 2010
Youth Technology & Education Center (YTEC) has changed its name to Youth Learning Center (YLC) to more clearly identify education as the primary aim of the organization.
To further its efforts to better serve children, YLC has expanded its internal classrooms space by 2,500 square feet: adding four new classrooms, a meeting room and a library. The extra classroom space will allow enrollment to expand from 60-80 children per session up to 105 children per session, an enrollment increase of up to 75%.
"This is an exciting time of change and growth to further serve our students," said Bill Kent, Jr., executive director of YLC. "We look forward to serving more students and further enhancing our focus on learning."
To introduce the media and local community to the newly expanded facility, YLC is holding an open house on June 25. Tours will be given between 9 and 11:30 a.m. and 1 and 3 p.m. Students will be utilizing the new classrooms for their Summer Learning Program throughout the day so attendees will be able to view YLC student learning activities.
The $660,000 renovation utilized existing interior space and did not affect the building's footprint. The YLC building now has 15,000 square feet of usable space. Ray and Judy DeLuca Ford and the Ford Family Charitable Fund of the Greater St. Louis Community Foundation provided funding for the renovation.
YLC, a 501(c) 3 organization, concentrates its learning enhancement activities on five core subjects: mathematics, language arts, science, and computer science and entrepreneurship/civic leadership. Learning opportunities are provided through the six-week Summer Learning Camp as well as during after school programs, known as Resources for Learning Programs, throughout the school year. In addition to the programs' affordability, financial aid and full scholarships are available to students in both programs.
Founded in 2003 by Willie L. Kent Sr. and Ray and Judy DeLuca Ford, YLC's mission is to positively impact the lives of inner-city youth by offering academic enhancement opportunities designed to inspire a commitment to life-long learning and leadership from the classroom to the community.
Note to editors: All YLC students have video/photo releases on file so there is no impediment to photographing or recording students.
# # #