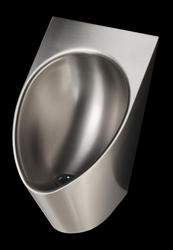 Los Angeles, CA (Vocus) June 25, 2010
Acorn Engineering Company, manufacturer of water-saving plumbing fixtures and systems, features in its product lineup a stainless steel Waterless Urinal made from 80% recycled content, operating without the need for chemical cartridges. With its clean, utilitarian form and strength, Acorn Engineering's hand-welded and sustainable Waterless Urinal will outlast other fixtures and reduce impact on water resources, landfills, and a building's budget.
The Waterless Urinal has furthered Acorn Engineering's commitment to the environment by utilizing a well-known technology that does not require messy and expensive liquid replacement cartridges. Landfill waste is minimal, and the unit can be cleaned regularly without voiding its effectiveness. Plus, stainless steel is a sterile material, significantly reducing the bacterial buildup. This system earns LEED points toward water savings that, combined with other products built with respect to conservation, work toward achieving US Green Building certification.
This durable stainless steel product is wall mounted and can be installed to meet the American Disability Act's Standards for Accessible Design. Acorn Engineering offers the option of Enviro-Glaze® powder coating for all of their stainless steel products, including the Waterless Urinal, which comes in a variety of hues.
ABOUT ACORN ENGINEERING
Acorn Engineering, located in City of Industry, California, custom-engineers plumbing products to meet the demands of schools, stadiums, hospitals, correctional facilities, hotels and many commercial environments. To find a local sales representative, please visit http://www.acorneng.com or contact (800) 488-8999.
Urinals mounted at 17" rim height comply with ANSI, ADA, UFAS accessibility requirements and IAMPO classified IGC-161-2007. Compliance is subject to the interpretation and requirements of the local code authority.
Media Contact:
Amanda Savercool · Communications and Media Manager · Acorn Engineering Company
626.937.4727 · 1.800.488.8999 · http://www.acorneng.com
###