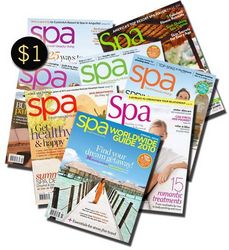 Ventura, CA (PRWEB) June 24, 2010
(PRWEB) June 24, 2010 -- Wahanda, the easy-to-use, comprehensive and global online resource for health, beauty and wellness, is introducing MobDeals to the US. MobDeals is an exciting new concept that connects customers with fantastic local health, beauty & wellness businesses via daily MobDeal offers on services such as massages, spas & salon treatments, fitness, yoga and Pilates classes as well as beauty product lines. The daily MobDeals are unique in that they complement Wahanda's growing online marketplace of evergreen wellness deals & offers all across the US.
To kick things off in the States, we are making the first of our many MobDeals to come a very special one. This Wahanda exclusive is a full-year subscription to Spa Magazine for just $1.00. The weeklong, nationwide MobDeal ends on June 27th and supplies are limited.
How MobDeals work:
1) Using the power of collective buying, Wahanda negotiates special volume discounts with top spas, salons, fitness studios, beauty product lines and more to offer an exciting daily MobDeal.
2) The deal is open to everyone – but it is only available from between 24-48 hours and only comes into effect if enough people sign up for that day's MobDeal (the number varies by day and deal).
3) Customers are encouraged to share the deal with friends via email and social networking tools such as Facebook and Twitter. If the minimum number of purchases is not met, no one gets the deal and no one is charged.
4) Once the minimum number of customers has purchased a MobDeal, the unbeatable deal is officially "live" and is available for the rest of the day for anyone to purchase.
The Wahanda MobDeal creates a win-win situation for consumers as well as spas, salons and fitness and wellness venues by guaranteeing a minimum number of new customers to these businesses. Best of all, Wahanda is giving something back: for every MobDeal purchased, Wahanda donates $1 to charity:water to help support this non-profit's dedication to providing clean, safe drinking water to needy communities in developing countries around the world.
For the Spa Magazine MobDeal and to sign up for MobDeal Alerts, visit:http://us.wahanda.com
###