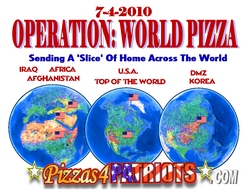 "Since we started Pizzas 4 Patriots, the letters of appreciation that we get from the military as well as from friends and family of those stationed overseas is really heartwarming and makes it all worthwhile."
Plantation, FL and Chicago, IL (PRWEB) June 24, 2010
Pizzas 4 Patriots, a non-profit organization, has teamed up with DHL Express, the world's leading global express delivery and logistics company, and AT&T to send thousands of Edwardo's Natural pizzas to U.S. servicemen and women overseas in time for Independence Day, 2010.
This Independence Day, U.S. servicemen and women at bases in Iraq, Afghanistan as well as South Korea will get a taste of home – Chicago and New York Style. Over 5,000 Award Winning Stuffed Pizzas from Edwardo's Natural Pizza in Chicago, along with hundreds of pizzas from New York Flying Pizza will leave the U.S. in time for 2010 Independence Day celebrations at U.S. military bases. DHL Express has donated its global shipping network for the delivery.
According to Ret. MSgt Mark Evans of Pizzas 4 Patriots, his non-profit has been incrementally gearing up to expand pizza deliveries to the U.S. servicemen and women stationed across the world, with this July 4 adding a special distribution to those stationed in Korea, hence the newly named OPERATION WORLD PIZZA.
"We should never forget the sacrifices of the men and women based around the World that defend our freedoms and those of our allies, which is why we have been working to expand our distribution to all regions of the world where U.S. Commands are based," said Ret. MSgt Mark Evans. "Since we started Pizzas 4 Patriots, the letters of appreciation that we get from the military as well as from friends and family of those stationed overseas is really heartwarming and makes it all worthwhile." "With added help, we are able to reach our arms wider and farther than before, and with Operation World Pizza we are able to strategically accomplish this"
The mission to show appreciation and bring reminders of home to the men and women in uniform overseas was conceived by Ret. MSgt. Mark Evans of Elk Grove Village, Ill. In 2008, Evans' 15-year-old son Kent asked if there was a way to deliver freshly-frozen Chicago-style pizzas to servicemen and women stationed throughout Iraq in time for July Fourth Independence Day Celebrations.
The initial effort required 2,000 pizzas and was extremely well received. Since the first effort, and with the support of DHL Express, Evans has been able to ship over 45,000 pizzas to U.S. military personnel overseas.
Over 5,000 pizzas, packaged in temperature-cooled containers, were picked up at the Edwardo's National Pizza restaurant on Wednesday, June 23 at 10:00 a.m. in Wheeling, Illinois for a formal send-off event. The pizzas, along with letters of support to the troops, were transported from Chicago to DHL's hub at the Cincinnati/Northern Kentucky Airport where they will move onward to regional DHL hubs in the Middle East and Asia. DHL provides door-to-door, final mile delivery for the entire distribution, working closely with the U.S. military to ensure the pizzas are delivered fresh and ready to heat and serve at various military bases.
DHL has been selected by the Department of Defense for service to numerous locations around the globe based on the extensive service capabilities and "first in market" approach provided in support of US servicemen and women. DHL was also the first international air express carrier to provide service to Iraq and Afghanistan, and operates the most extensive logistics service in the Middle East Region
"As the specialists in international shipping, DHL is honored to leverage its global network in support for Pizzas 4 Patriots which continues to lift the spirits of our brave servicemen and women, " said Christine Nashick, Vice President of Marketing for DHL Express USA. "During important holidays, it's even tougher to be away from friends and family, so we trust these reminders of home will bring smiles to deserving military personnel."
About Pizzas 4 Patriots
Pizzas 4 Patriots is a non-profit organization with the mission of making a positive difference in the lives of our service men and women. We proudly support those patriots presently serving, as well as our wounded Veterans. It is our goal to provide our Armed Forces with unique gifts from home. We have been fortunate to receive donations, ranging from financial to products and services, from individuals, families, corporations, and other organizations, all wanting to show appreciation for the sacrifice of our brave troops. Our goal is to bring a little bit of home to the troops, and show them that they are supported by the country and residents who enjoy the freedoms that they provide for us.
For more information please visit see http://www.OperationWorldPizza.com or http://www.Pizzas4Patriots.com,
@Pizzas4 on Twitter and PizzasFor Patriots on FaceBook.

Pizzas4Patriots/Operation World Pizza 2010 -
# # #