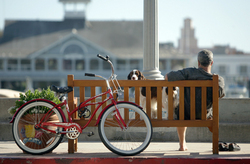 Newport Beach features family fun year-round, but the summer season brings extra-special things for families to see and do!
Newport Beach, CA (Vocus) June 25, 2010
Fun-Filled Summer Family Finds
Newport Beach features family fun year-round, but the summer season brings extra-special things for families to see and do! For the best of Newport family-fun, don't miss the aptly named Fun Zone on Balboa Peninsula or all of the wonderful waterfront activities on Newport Harbor. Here are some other ideas.
Eco-Tours at Newport Dunes Waterfront Resort
At Newport Dunes Waterfront Resort, a newly-launched ecological tour of the surrounding federally protected, 750-acre natural wildlife reserve that adjoins it will feature kayak and surrey bike tours that can accommodate up to 8 passengers. Tours are guided by trained naturalists and part of the proceeds of the tours are donated to the Newport Bay Naturalists & Friends (NBNF).
Kid Competitions, Surf Lessons & more at Hyatt Regency Newport Beach
Hyatt Regency's ideal bayside location and proximity to Balboa Island are only two of the many reasons it remains one of the most family-friendly resorts in Newport! This summer, Hyatt offers festive and fun activities for kids including hula hoop contests, bocce ball tournaments and complimentary surfing lessons on-site. In addition, the resort offers its popular "Dive-In" movies and complimentary s'mores for kids every Saturday night!
Camp Pelican™ Movies & Smores; Summer Junior Golf Camp at The Resort at Pelican Hill
For Summer 2010, The Resort at Pelican Hill features kid-friendly activities such as Junior Golf Camp, a program designed for golfers between the ages 7-13. Five Junior Golf Camps are being offered in July and August at Pelican Hill Golf Academy. Cost is $350 per child. Reservations can be made by calling Glenn Deck at 949.467.5810
4th of July in Newport
Old Glory Boat Parade on Newport Harbor
Newport Beach rings in the nation's Independence in true all-American fashion as one of the largest small yacht harbors in the world mobilizes to host the 58th Annual [Old Glory Boat Parade."
Fireworks on the 4th at Newport Dunes
The Dunes' annual fireworks presentation has become one of the Southland's most popular 4th of July destinations. This year's event is expected to draw 15,000 and will begin promptly at 9 pm.
Sunday Summer BBQs
Balboa Bay Club's "Sunday Evening Dinner Barbeques"
Now through August 29th, the Balboa Bay Club & Resort is featuring its annual Sunday summer barbeques and entertainment at the popular "Duke's Place" Terrace. Executive Chef Josef Lageder and his Team grill popular favorites. Live steel drum calypso performances by the resort's "Coconut Frank" complete the ultimate tropical experience. BBQ pricing is $29.50 for adults, $19.50 for children 12 and under (plus tax & gratuity).
The Island's "Sundays Only" Palm Terrace Pool Party & Barbecue
The Island Hotel Newport Beach invites guests to enjoy summer fun and revelry in their Palm Terrace Pool every Sunday from 3 to 5 pm, followed by a BBQ (5 to 9 pm) on the patio. At the buffet a selection of seasonal favorites are served. Cost is $34 per person for adults; $12 per person for kids 12 and under; complimentary for children under 5.
Pelican Hill's "Culinary Academy" Summer Grill Cooking Class
The Resort at Pelican Hill introduces its "Culinary Academy," offering cooking classes ideal for local residents and Resort guests who want to brush up on their culinary skills. In the Summer Grill Cooking Class learn inside tips on how to create succulent summer fare. Use hickory and olive woods to enhance flavor, implement ideal seasonings to use with three choice tender meats, brush up on grilled vegetables techniques, and enjoy a flight of beers to accompany this delectable meal. Cost is $75 per person, including lunch and a flight of gourmet beers to sample. Class held June 27th, August 8th.
"Truly Newport" Summer Traditions
Balboa Bars & Frozen Bananas on Balboa Island
For under $5 you can savor a Balboa Island original - the frozen, hand-dipped chocolate-covered banana. Balboa Island is where the frozen chocolate banana was first-ever marketed in the U.S. The frozen banana jetted to a whole new level of fame when the popular TV show "Arrested Development" focused on a family who owned a Balboa Island frozen banana stand. The island also the birthplace of the Balboa Bar - a slab of rich vanilla ice cream on a stick lathered in thick dark chocolate, rolled in nuts or candy - a vintage pre-cursor to today's Dove Bar.
Ride a Duffy
Duffy Electric Boats first opened its doors in Newport Beach in 1970, becoming the first modern U.S. company to build and manufacture electric powered boats on a large scale. Now there are 1,500 Duffys alone on Newport Harbor! The Duffy Boat is a signature attraction in Newport Harbor and a must do for summer!
Romance on an Authentic Venetian Gondola
Did you know that Newport Harbor is the only place outside of Italy where you can find multiple gondola companies operating on the same waterway. The gondola, "Lucia" will be launched for the first time in a decade in Newport Harbor on June 24th. Gondola Adventures® will operate the "Lucia" in addition to operating the only authentic Venetian gondolas available for cruises in Newport Beach.
Surf "The Wedge" or Just Be a Spectator!
The Wedge is a famous surf spot with large surf breaks close to shore. Every summer, swells that begin life off New Zealand, half a world away, finally slam home in North America at the tip of this famous breakwater. As the waves approach shore, they bounce off the jetty's boulders and, in the final seconds before landfall, merge and morph into a backbreaking and monstrous wave known as the Newport Wedge!
New & Notable
New 2010/2011 Official Newport Beach Visitors Guide Now Available!
Highlighting the best to see and do in Newport Beach, the new 2010/2011 Official Visitors Guide is now available!
Download your copy now, or contact us to request a digital or printed copy!
###