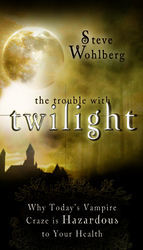 "Pop culture has fallen under the hypnotic trance of Stephenie Meyer's Twilight saga. Thank God for Steve Wohlberg!" —Adam McManus, Radio Talk Show Host, AM 630, KSLR
Newport, WA (PRWEB) June 24, 2010
On June 30, 2010 Summit Entertainment's third film Eclipse based on Stephenie Meyer's wildly popular Twilight novels will suck millions of dollars at box offices worldwide from the pockets of young and old alike—especially teenage girls. When the evil vampiress Victoria seeks revenge for the death of her lover James, romantic rivals Edward Cullen and Jacob Black uncharacteristically unite the forces of vampire and werewolf to defeat her, and to protect Bella.
It's a thrill-packed, wholesome love story, right?
WRONG! warns radio host, TV producer, occult researcher and bestselling author of 24 books Steve Wohlberg in his latest work, The Trouble with Twilight: Why Today's Vampire Craze is Hazardous to Your Health (Destiny Image, July 1, 2010). "Twilight has positive features," notes Wohlberg, "but it is laced with occultism, contains mixed moral messages, and is fueling a morbidly dark and dangerous trend toward real vampirism, not only among the Gothic fringe, but among white color professionals."
Objective observers looking beyond Twilight posters, lunch boxes, buttons and t-shirts have noted rising global interest in sipping real blood among teens and adults. Major media have reported the trend:
ABC News: Coming Out of the Coffin: Vampires Among Us
The Washington Post: A Vampire's Life: It's Really Draining
Fox News: Night Neighbors: Members of America's vampire subculture could be living right under your nose
"In fiction, 'the vampire' denotes power, sexuality, romance, and immortality; but in reality, those who experiment with the bizarre practice of drinking blood (known as "ethical vampirism") can easily slip through an alluring doorway into darkness, immorality, and despair. Buyer, beware!"—Steve Wohlberg, author of The Trouble with Twilight
Steve Wohlberg is the Speaker/Director of White Horse Media (Newport, WA) and has been a guest on over 500 radio and television shows, including CNN Radio, Cable Radio Network, Focus on the Family, American Family Radio, and The Harvest Show. He has been cited in The Washington Post, has spoken by special invitation inside the Pentagon and U.S. Senate, and has been featured on three History Channel documentaries, Secrets of the Seven Seals, The Armageddon Battle Plan, and Strange Rituals: Apocalypse. He currently lives in Priest River, Idaho, with his wife Kristin, and their two small children, Seth and Abigail.
To download Chapter 1 of Steve Wohlberg's fascinating new book for free, visit http://www.avoidtwilight.com.
###