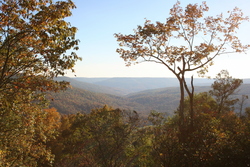 "The opportunity to live adjacent to Lost Cove and Champion Cove is a once in a lifetime circumstance," continues Goodson.
Sewanee, TN (PRWEB) June 28, 2010
Myers Point at Sewanee, an exclusive craftsman community in Franklin County, will hold open houses on June 3 and 4 to coincide with holiday celebrations in downtown Sewanee. Visitors are welcome to tour the 24-lot luxury development following the town parade from 4:00 pm until dark on Saturday and from 1:00 pm to 6:00 pm on Sunday according to local developer John Currier Goodson.
"The town of Sewanee is truly unique in that is nurtures an authentic, small town community while the influence of the University of the South brings a level of cultural sophistication to the area that few small towns experience," explains Goodson. "You may feel like you're dropping in on Mayberry during the Fourth of July weekend but in the local coffee shop you're likely to be having conversations with people who are world travelers, celebrities or leaders of industry. It is hard to believe you're only a couple of hours' drive from several major cities."
Myers Point at Sewanee offers a rare and limited opportunity to enjoy a 480-acre private, gated community located on Tennessee mountain land adjacent to the University of the South Domain and overlooking Lost Cove and Champion Cove. The uniquely located property, with its old growth forest, waterfalls and panoramic bluff views, has been put into a permanent conservation easement during the recently completed Lost Cove Campaign conducted jointly by the University of the South and the Land Trust for Tennessee.
"The opportunity to live adjacent to Lost Cove and Champion Cove is a once in a lifetime circumstance," continues Goodson. "Archaic Indians lived there at least 9,000 years ago and there have been very few inhabitants since that time making it an extraordinary time capsule. You can walk there from Myers Point."
Potential homeowners may chose between home sites ranging in size from 2 – 6 acres; all with either bluff frontage or lake front acreage located in the residential area of Myers Point named The Community. The 355 acres of common area includes three stocked lakes, a community barn, fire pit, walking trails and resting benches located along the lakes and bluff in The Community as well as 330 acres of forested land along the bluff side known as The Park.
Future open houses are scheduled for the weekends of August 21, October 2 and November 3. Potential buyers may also contact Goodson at the Myers Point Sales Office, 931) 968.1127, to arrange a private, personal tour at any time.
More About Myers Point: Myers Point is located on the Cumberland Plateau securely in the heart of the region The Nature Conservancy calls one of the three most ecologically important geographical zones in the world rivaling the bio diversity of tropical rain forests. Myers Point at Sewanee proudly shelters an expansive acreage of unspoiled, mature indigenous hardwood forest. Located within and easy drive from urban markets such as Nashville, Atlanta, Knoxville, Huntsville and Birmingham and only minutes from the University of the South campus, it has been owned and cared for by three generations of the Myers family since the early 1900's. The Myers Point sales office is located in the Locals art gallery at 24 University Ave., Sewanee, TN. Phone: 931.968.1127
About John Goodson: A great grandson of Confederate General Edmund Kirby-Smith, John Currier Goodson purchased the Myers Point property from Ina May Myers in 2004 with a shared vision of creating a gathering of like-minded homeowners who would appreciate the unparalleled view of the Champion and Lost Cove land. Goodson has spent the last five years developing the property. Goodson is also involved with the Sewanee Business Alliance and the Sewanee Pocket Park Project. He is an investment advisor with his firm Goodson Wealth Management, LLC in Winchester, TN and he lives in Sewanee with his wife Melissa and their two children.
Contact Information:
More on Myers Point: http://www.myerspoint.com
# # #